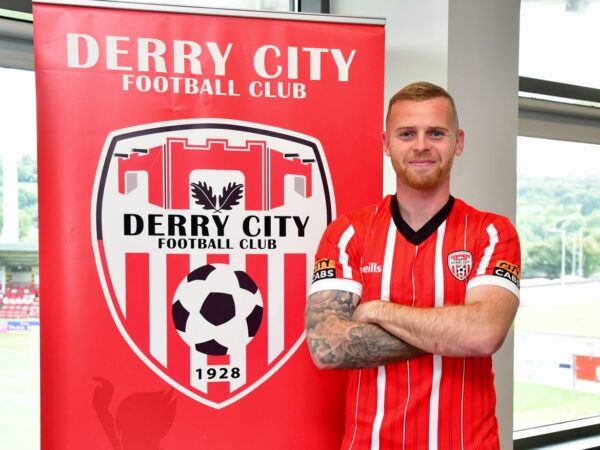 Derry City FC have confirmed the signing of Mark Connolly this afternoon.
The defender joins the Brandywell said on a two-and-a-half year deal from Dundee United.
The 30-year old spent the first half of this season on loan at Dundalk where he won over the fans with a string of outstanding performances.
The Clones native showed his impact, picking up a Player of the Month award in the first half of the season.
With that loan deal up however, Ruaidhri Higgins wasted no time in moving to secure the services of the former under-21 International and he has just been unveiled at a press conference at the Brandywell.
Manager Ruaidhri Higgins and his assistant manager, Alan Reynolds travelled to Edinburgh on Monday to meet with Connolly and his wife Rosa and it was that gesture, coupled with the club's ambitious plans for the future, which ultimately sealed the deal.
"I've been in England and Scotland my whole career and probably could've stayed over there," said Connolly.
"But I wanted to come back home closer to my family. How Derry City treated us, in terms of flying over, they didn't need to do that.
"They showed a keenness and willingness to sign me which shows how much they wanted me. I'm delighted to be here and can't wait to get started.
"When I spoke to Ruaidhri and he told me about his ambitions for the club and when himself and Alan flew over to meet myself and my wife, I haven't had that in my career with managers. I've had a lot of managers speak over the phone but not fly over and also to speak to my wife.
"I was more worried about that than anything else," he laughed. "Rosa obviously had questions about where we would be living and stuff like that.
"That was top of our list, what was happening with our two young kids. When Rosa felt comfortable I was comfortable.
"That as well as the ambitions and the way the club wanted to move forward, it was something straight away I wanted to be part of."
With no shortage of clubs interested in his signature, the former Wolves player said the talent in the Derry dressing room and the potential of the club was the biggest selling point for him.
"I've been in professional football a long time. This is a very talented group and I think everyone in the League of Ireland is aware of the talent in Derry.
"I want to come here and win leagues. I want to win cups, I want to make history and I want to play in Europe. I want to win stuff," he insisted.
"This club is going in the right direction. It might take time but I'm sure this club will be successful."
Higgins also dismissed the suggestion that he had got one over his old club Dundalk, by taking one of their best players.
"It's not about that for me, even though people are jumping on that because a few have come here from Dundalk," he insisted.
"I have the utmost respect and I mean that – Stephen O'Donnell is one of my best friends in the world, never mind football.
"It's not about that for me, it's about what Derry City needed.
"We worked extremely hard; I know we only had our initial conversation towards the end of the weekend and early Monday, but we worked extremely hard to bring him here and thankfully he's here."
Tags: