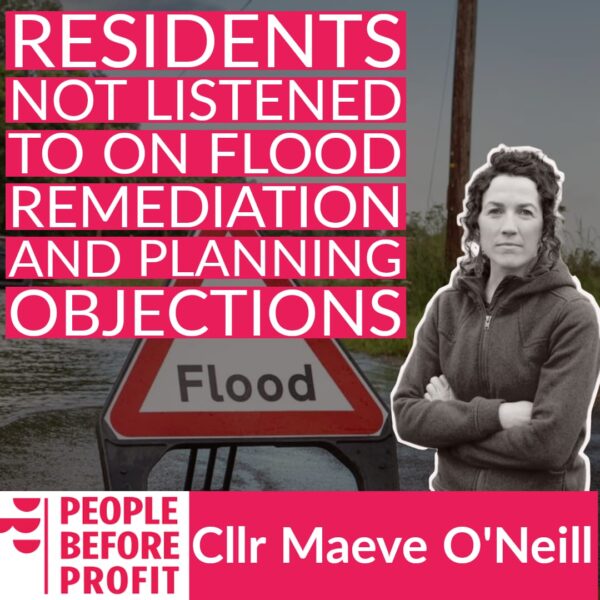 People Before Profit Councillor Maeve O'Neill and All-Party Group on Climate Action member has said residents in Derry have not been listened to on flood remediation and planning objections.
Said Cllr O'Neill: "There's a lot of dismay and anger, especially from residents in areas most directly impacted, that this scale of flood destruction could happen again.
"And if residents had been listened too we wouldn't be dealing with same level of damage.
"Many are rightly asking what happened to the lessons and plans from the 2017 floods?
"We fully commend everyone involved in the emergency response and ongoing clean-up effort.
"Any households needing access to DfC emergency financial help should be assisted.
"The Department for Infrastructure has questions to answer regarding its role in the emergency response but its responsibility for flood destruction is much greater.
"The 2017 flooding devastated Derry and the North West. Since then mass protests demanded urgent government action to address the consequences of climate change.
"Local communities, especially in areas hardest hit in 2017, have been at the forefront of demanding flood protection mitigations.
"Basic regular cleaning of drains and gullies by DfI would have reduced the impact of flooding.
"Flood remediation plans were agreed but in most cases this has not been acted upon by DfI.
"The third area where there is a serious lack of urgency is planning. It's still the case many planning proposals from developers come to Council that aren't properly flood or climate proofed.
"Agreeing to developments in areas with high levels of flood risk without proper adaption plans is irresponsible. In our experience, these proposals too often get the backing from DfI, Planning Officers and big parties.
"House building is urgent in Derry but we need to make sure we aren't putting people into homes where they will face the threat of flood devastation and everything that comes with it.
"The lack of urgency from the DfI and the Stormont political establishment points to the need for increased direct resident and community involvement in making sure a spotlight is placed on future planning proposals and follow through on infrastructure remediation plans."
Tags: