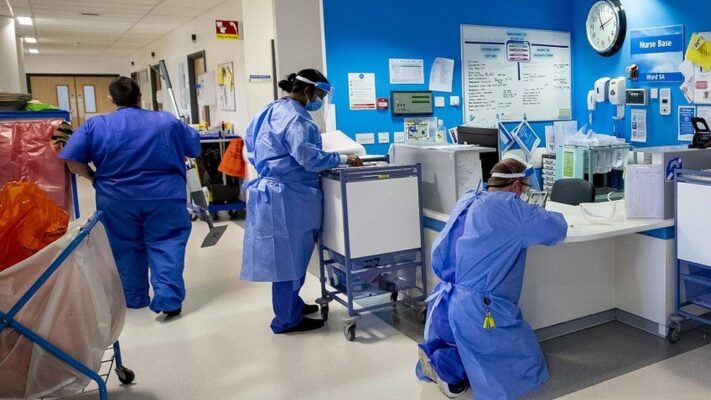 An independent pay review body has recommended that health service staff in the North of Ireland should receive a pay increase of £1,400.
That is equivalent to a pay rise of around 9% for the lowest earners, but for middle earners it will be around 4 per cent.
The Royal College of Nursing has called it "a grave misstep by ministers".
A separate recommendation for doctors and dentists is for a 4.5 per cent increase.
The UK's main rate of inflation was today reported at 9.4 per cent for the month of June meaning many workers will see their pay fall in real terms.
The North's Department for Health has warned the pay review body that it will need additional funding to afford these pay rises.
It told the NHS pay review body: "There will be no capacity to afford a pay uplift in 2022/23 without additional funding being made available in-year."
The Royal College of Nursing's general secretary Pat Cullen said: "Our members will vote and tell us what they want to do next.
"The award must be fully funded with additional money."
The chair of the British Medical Association (BMA) GP committee in the North, Derry-based Dr Tom Black, said that the 4.5 per cent recommended for doctors and dentists needs to be addressed by decision makers here.
Dr Black said he had requested an urgent meeting with the health minister, Robin Swann, and added: "Doctors need to be paid properly."
In England, more than a million NHS staff will get a pay rise of at least £1,400, with lowest earners getting up to 9.3%.
Police in England and Wales will get £1,900 salary uplift, equivalent to 5% overall pay award.
Unions are pressing for pay to reflect living costs, with inflation running at 9.1%.
Pay deals covering 2.5 million public sector workers, including teachers, nurses, doctors, police officers, and members of the armed forces, are being unveiled.
The government said it had accepted the recommendations of NHS, police and teacher pay review bodies in full.
Pay increases of between 5% and 8.9% have been awarded to teachers in England, and 3.75% for members of the armed forces across the UK.
Ahead of the announcements, ministers conceded that pay awards would not keep pace with rising prices, but argued that doing so would fuel inflation.
The current UK inflation rate is now up to 9.4%, with the Bank of England predicting inflation could reach more than 11 per cent later this year.
On Tuesday, latest official figures showed regular pay for all workers is falling at the fastest rate since 2001, when inflation is taken into account.
Before taking account of inflation, average total pay growth for March to May 2022 was 7.2 per cent in the private sector and 1.5 per cent in the public sector.
Tags: