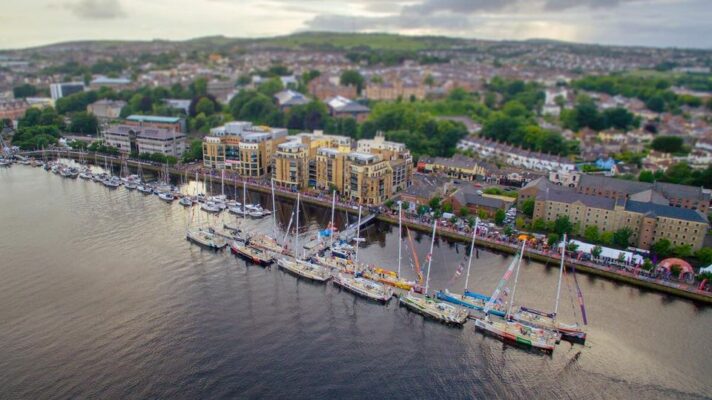 Foyle Maritime Festival goers will have the opportunity to give a big, local welcome to the Clipper Round the World Race crews at the traditional prize-giving event, which will take place on Wednesday.
Normally held in the Guildhall, this year the event will take place on the main stage in the festival village, called Dopey's Den, along the Quay.
All of the Clipper crews will be onstage alongside Mayor of Derry City and Strabane District Council, Cllr Sandra Duffy, from 4pm on Wednesday – the opening day of the Foyle Maritime Festival.
There will also be an appearance from pupils from Ardnashee School and College who will present each of the skippers with yacht models filled with beautiful plants that they have made for each of the Clipper crews.
Additionally, Mayor Duffy will present a Spirit of the Derry Girl prize to a nominated person from each of the boats to add a personal touch to their stop in the city and congratulate them on their crossing from New York to the Foyle.
This is a new element of the prize-giving ceremony off the back of the world-renowned Derry Girls TV series.
Each of the crews have been asked to nominate a member of their team who they feel captures the distinctive spirit and qualities of an 'honorary Derry girl'!
The Spirit of the Derry Girl award is not about gender or nationality, but instead about all the things that really matter when it comes to being part of a team, coming together to face challenges and seeing the good and bad times through.
Each nominee will be revealed onstage and receive their gift from Mayor Duffy.
Also during the prize-giving, the crews will share stories of adventure and tales of triumph in the face of adversity, and with music and revelry it promises to be a fun-filled party in the first gathering of the teams all together since arriving in port.
The headline act of the prize-giving music programme is certainly something not to be missed, with the return of Seo Linn.
Having whipped race crews from two previous prize-givings into a frenzy of celebratory dancing, jigging, singing and swinging, the Irish group that became an internet sensation for their cover of Avicii's 'Wake Me up' as Gaeilge are set to get the party rocking along the Quay with their unique and infectious performance.
Mayor Duffy said she was looking forward to catching up with the sailors and celebrating their achievements.
"It was a pleasure to greet each of the Clipper yachts as they made their way into our beautiful Foyle Marina last
week and I'm really looking forward to catching up with all of them at the prize-giving event on Wednesday," she said.
"It's always a really positive atmosphere and it's brilliant that this year it will be taking place on the main stage of our Dopey's Den festival village where the crowd can give all of the fantastic sailors a big welcome and cheer that we are famous for!
"There's no better way to kick off what promises to be a jam-packed and exciting festival programme.
"I'm particularly delighted that I will get to share the stage with the pupils from Ardnashee who have spent a lot of time and effort creating some fabulous boats for each of the crews which I know they will deeply appreciate.
"I'm also pleased that I will be presenting a member of each yacht with a Spirit of the Derry Girl prize that will hopefully remind them of our beautiful City and District for many more years to come.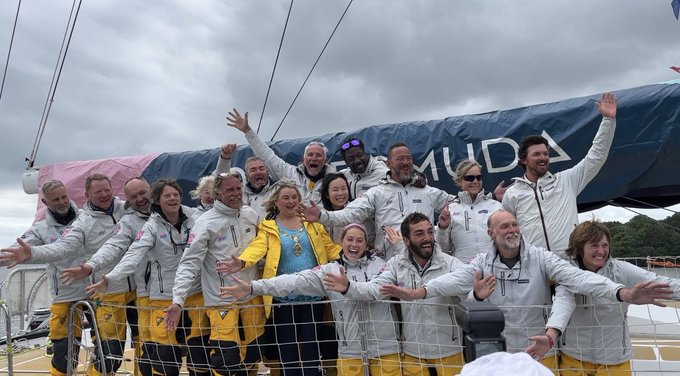 "In our eyes this is certainly the ultimate accolade, and it's a unique and special element of this year's prize-giving which will celebrate the sailors selected for their teamwork, determination, their positive attitude, and, of course, their amazing achievement of sailing from New York to our beautiful city.
Added Mayor Duffy: "With Seo Linn back with their unique performances that are guaranteed to get people singing and dancing along, it's going to be a great afternoon of laughs, stories and celebration so I would encourage everyone to get along to the festival stage along the Quay on Wednesday and kick off our Foyle Maritime Festival!"
The Foyle Maritime Festival is being delivered by Derry City and Strabane District Council with support from the Tourism NI, Foyle Port, the Loughs Agency and Diageo, running from July 20 -24.
To view the full programme, visit: foylemaritimefestival.com
Tags: