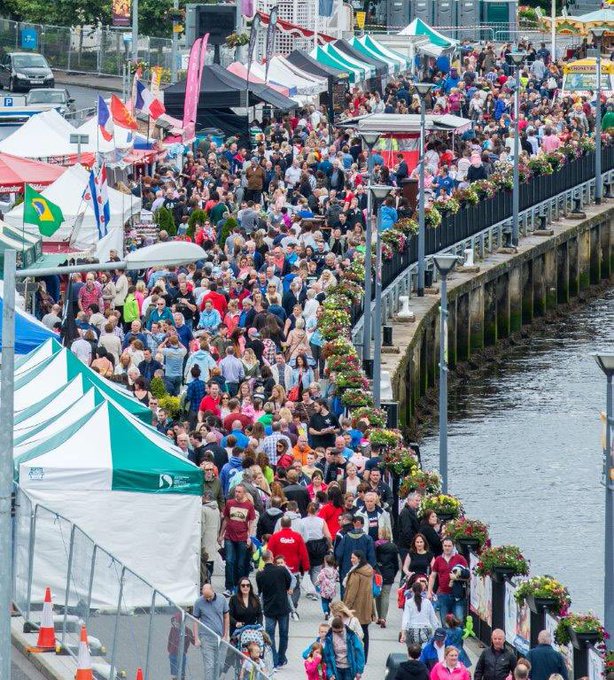 The Foyle Maritime Festival is expected to attract tens of thousands of visitors to Derry and Strabane next week and much work has gone into making the key events and activities accessible to as many people as possible this year.
Several provisions have been made throughout the course of the five-day event, which runs from July 20th – 24th, to ensure that anyone with additional needs can get the very best from the Foyle Maritime experience.
This year a dedicated sensory friendly programme will be a key feature of the festival, which includes sensory friendly time on Friday 22nd July from 11am – 2pm at the Festival site, relaxed sessions at the Funfair from 11am – 2pm in the Boardwalk Empire area, as well as relaxed sessions of the Mermaid Storytelling and art and learning workshops in the Science of Water tent.
There will also be relaxed tours of the Brocklebank Tug Boat at the Waterfront from 11am – 1pm on 22nd July.
Other provision includes accessible viewing areas at key events including the Maritime Showcase event 'What Lies Beneath' and the fireworks on Friday evening, a quiet room in the Festival Family Hub and at the Guildhall, accessible toilets located throughout the festival site, a Changing Places toilet facility in the Festival Family Hub at the Council Building and also in Ebrington Square.
Looking ahead to the Festival, the Mayor of Derry and Strabane, Councillor Sandra Duffy, said she was delighted that the additional measures would be in place to enhance the experience for everyone.
"The Maritime Festival attracts huge numbers of people, and of course that brings with it noise and hustle and bustle," she said.
"This can be overwhelming for anyone with sensory issues and the organisers wanted to make sure there were a number of quiet spaces this year where people can step away from the crowds if needed.
"The relaxed sessions at the amusements and other children's activities will also be very much welcomed by families who can plan their visit to coincide with these activities a bit earlier in the day before the larger crowds gather.
"It's so important that everyone feels welcome at our events and that we create an environment where no one feels left out or unable to attend."
No booking is necessary in advance for the Access and Inclusion provisions within the Festival Site, but people are advised to check the activity times online before arrival and information regarding accessible parking nearby.
There will also be plenty of stewards on hand to offer assistance and guidance if needed to the various facilities.
Safety wrist-bands will be available from information points for anyone who wishes to avail of them to add a contact number to assist in the event of a child or vulnerable person being lost or found.
JAM (Just a Minute) Cards are also available at Information Points for anyone who requires extra time to complete a task or communicate effectively.
Festival and Events Manager with Derry City and Strabane District Council, Jacqueline Whoriskey, said:
"Accessibility is a key focus of Council and we are always looking at new ways to enhance our offering at all our events and facilities for anyone who may have additional needs.
"We want our festivals to be open to everyone and we want to create a safe, welcoming and enjoyable experience for as many people as possible.
"I would encourage anyone with any questions or concerns to get in touch with our Events team as we appreciate all feedback and will work to accommodate people as best we can."
The Foyle Maritime Festival is led by Derry City and Strabane District Council with support from Tourism NI, Foyle Port, the Loughs Agency and Diageo.​
You can find out more about all the additional measures at the Festival at: www.derrystrabane.com/inclusion
Tags: