Scammers behind a fraudulent Facebook Marketplace advert convince people to hand over a deposit to secure a booking at a holiday home they do not own.
Despite reports of the scam coming to light in May, police say more people may have fallen victim to the fraudsters since then.
Supt Gerard Pollock encouraged anyone who comes across the scam to report it to the PSNI.
On Friday, Police Derry City and Strabane was urging the public to be on their guard after they had received reports of people being duped into making down payments for holiday homes in Donegal and Portrush.
A woman duped by a fraudster selling holidays in Donegal has also warned others not to be conned.
Berni Campbell, from Strabane, paid a deposit before realising she had been duped.
PSNI Superintendent Gerard Pollock has now revealed: "Our enquiries would indicate that these adverts have been noted by up to 500 people.
"Those are the numbers we believe have looked at these adverts and maybe considered."
Supt Pollock said the deposits on the Donegal scam can range from £100 to £500.
Police are also aware of a similar-type scam operating online, with four reports made in relation to bogus holiday accommodation in Portrush.
Victims have paid deposits of between £100 and £200 and similar to the Donegal scam, these people hear nothing once deposits are paid.
Berni Campbell said she has spoken to a number of others who say they have fallen for the same scam after seeing an advert on Facebook Marketplace.
"There's people out there won't even know they've been scammed," Mrs Campbell said.
While the ad had been removed from social media for a short time, she said it had now returned.
Mrs Campbell's ordeal began when she booked a break at the holiday home in March, advertised online as being in the village of Bunbeg, County Donegal.
After a difficult year, she had wanted to take her "mum away for a week, for some family time".
She contacted the seller online, he provided a number and they spoke on the phone.
"It just looked fabulous and he was really convincing," she said.
"He really sold it to us, told us it was his parents' holiday home, but they couldn't use it this year. It was the first time they had rented the property out, he said. There was nothing that didn't feel right."
The seller provided bank details and Mrs Campbell paid the £200 deposit for a week's stay in July using Paypal's family and friends payment system.
That allows payments to be made without any commission – but it also means payments can not be paid back if something goes wrong.
Shortly after paying, she read an article in a local newspaper warning that the exact holiday home she had booked was a scam.
She had hoped it was not the accommodation she had booked – but the images used were identical, the method of the con the same.
The house does exist, but it is not in Bunbeg – it's located in a town more than 60 miles away.
The owner of the actual property, the images of which are used in the scam, has also spoken out.
She feels angry and a "tremendous empathy" with those conned out of their money.
"What this person is doing to people is horrendous," she told BBC News NI.
"I cannot believe whoever they are has not yet been taken to task by the authorities."
She said she was "only too happy to assist in any way in bringing this guy to task".
Anyone looking to book a holiday home in Donegal, she added, should know that her property is only on one well-known accommodation booking platform, and never has been on Facebook's Marketplace.
After reading the article, Mrs Campbell tried to contact the seller but there was no answer on the phone and social media messages were blocked.
"He pulled the rug right from under us," she said.
She is now a member of a social media group made up of people who have been conned in the same scam. They have all paid deposits.
"There's about 30 of us now, and there's new people every week," she said.
Neil O'Hagan, from Crumlin, Co Antrim, was another taken in by the scam who only learned the truth after reading a local newspaper article.
He knows Bunbeg well, having been a visitor to Donegal's Gweedore region for a number of years, and was also looking for a break after a hard year for his family.
"I saw the ad and thought the rent seemed a little cheaper than other properties in the area, but thought no harm in making an enquiry," he said.
Mr O'Hagan began communication with the seller, and soon he was booking two separate breaks at the holiday home.
"He was very accommodating on everything, he knew the area really well, we talked about certain pubs and it was clear either he knew it, or had done his homework."
He looks back now and remembers a few things didn't seem right.
"I remember thinking the grass was too green for Gweedore, I remember how he was a bit taken aback when I asked about his parents.
"In his ad he said they were not going to be using the home because of ill health, and I also remember thinking where he said the house was didn't seem to add up.
"But as we got chatting more I started to lose those doubts."
But when Mr O'Hagan read the newspaper article, his heart sank.
"What he is doing is sad and sickening," he said.
Mr O'Hagan has been able to retrieve the money he sent via Paypal but said the lack of action from the authorities was maddening.
Both Mrs Campbell and Mr O'Hagan – along with many other group members – reported the scam to police on both sides of the Irish border as well as Facebook.
Facebook's parent company Meta said it was "sorry to hear people are being misled in this way".
"We don't want fraudulent activity on our platforms, and we continue to invest in people and technology to remove scams," a Meta spokesperson said.
Mrs Campbell urged anyone with suspicions about marketplace listings to report it to Facebook and to local police.
"That it is still happening after all these months is infuriating," she said.
"I want people to know that this man has caught out so many innocent people."
Added Supt Pollock: "We know criminals are preparing for the summer with tailor-made holiday scams and, so, we would encourage everyone to do thorough research when booking holiday plans online," Police Service of Northern Ireland (PSNI) Supt Gerard Pollock said.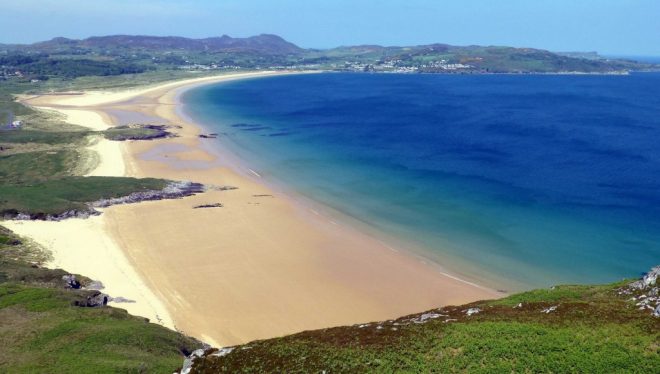 "Most often holiday scams start with an advertisement online, or on a social media platform. There are key ways, however, to stop yourself from falling victim to these scams."
He urged people to research the accommodation they intend to book and to pay using a credit card, rather than by bank transfer or PayPal to someone they do not know or have never met.
"If the deal looks too good to be true, it probably is," he said.
A spokesman for An Garda Síochána said anyone who believes they have been a victim of fraud should report it to police.
He said the safest way to send money is via an escrow account that ensures funds are not released until the buyer is certain the transaction is legitimate.
Tags:
Police have received 20 reports about a Donegal holiday home scam.