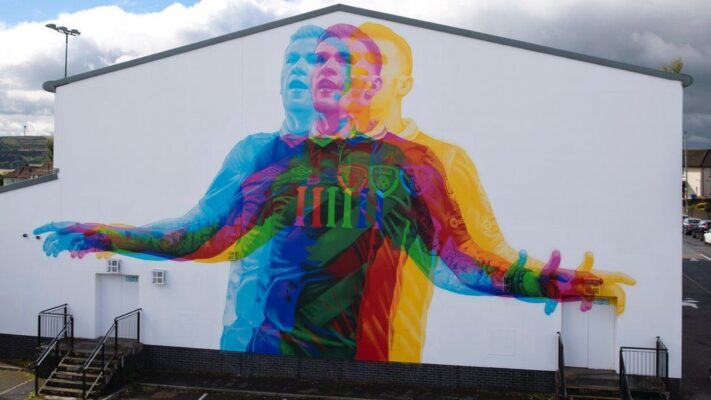 Footballer James McClean has said a giant mural in his honour in the estate where he grew up is "mind-blowing".
The mural on Central Drive in Derry's Creggan estate is the work of artist Aches.
"It is something I will cherish forever, it is pretty amazing," said the Republic of Ireland international.
The mural has been created by the Gasyard Féile's Graffiti On The Walls initiative and has been unveiled as the estate celebrates its 75th anniversary.
The 33-year-old Wigan Athletic player told BBC Radio Foyle that "Creggan is where I was born and raised, where I learned everything about life".
"It's a proud place, compliments are not handed out easily so to have a massive mural in the heart of Creggan, and not just for me but also my family, will live with me and them forever".
Féile's Gareth Stewart said while Barcelona had a Lionel Messi mural, and Naples one of Diego Maradona, it was only fitting that Creggan should have one of James McClean.
"This is a young fella who lived 50 yards from here, played in the football pitch beside us and through sheer hard work and focus has risen through the ranks from Derry City to the English Premiership.
"He's closing in on 100 caps for Ireland – only six players have done that."
He hopes the artwork will be inspirational for a new generation.
"For the young people who play in these streets, they look at this mural and can be inspired," he said.
"They know they can come from a place like Creggan and achieve their dreams."
Tags: