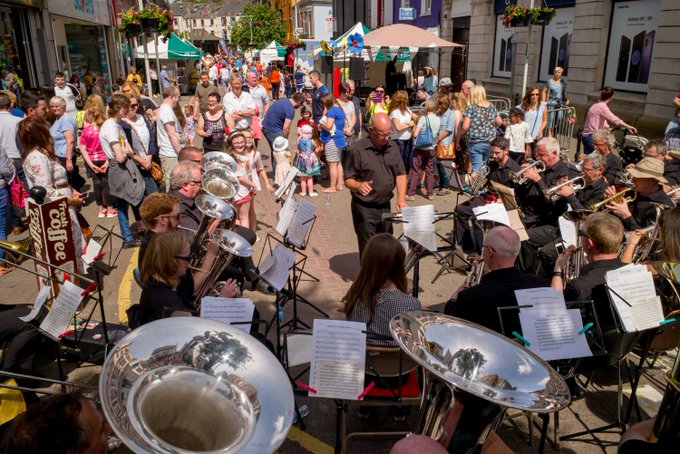 The excitement is building in Strabane as the final preparations get underway for the ultimate outdoor experience as Summer Jamm 2022 gets set for an electrifying return.
This year's theme is the Bold and the Beautiful so get set for an explosion of entertainment set to bring the streets to life on Saturday June 18th.
Many of the events are free and there's something to suit all ages from live music to sensational street food, funfair rides to arts and crafts.
Launching the event today, Mayor of Derry City and Strabane District Council, Alderman Graham Warke, said there was a great sense of anticipation building in the town ahead of the event.
"Summer Jamm is a major highlight in Council's annual events calendar and we are delighted to see it return in its original format this year, with a fantastic outdoor celebration planned. The programme is packed full of festival fun, and there's plenty to entertain all the family.
"As always the local business community through the Strabane BID has played a vital role in bringing this programme together and the events will be taking place right throughout the Town Centre.
"It's fantastic to see live entertainment back on our streets and I want to thank all our partners for their support. I know this will be a festival to remember."
All the action will take place at a range of venues and the Alley Courtyard is one of the bustling hubs hosting a wide array of activities throughout the festival, with live music from Music to your Ears and the St Patrick's
Accordion Band, traditional games, and a tempting barbeque.
In Railway Street enjoy all the fun of the fair, hop on the bumper cars and pirate ship, play mini golf, enjoy some carnival games and visit the birds of prey.
It's all action in Abercorn Square with live circus shows, some festive fun with Babcock and Bobbins, Jim and Dr Nick, Get Pumped and Steam Pumped.
Tantalise the tastebuds with a visit to Castle Street Food Quarter, where you can sample everything from ice cream to curry, with plenty of fun activities to enjoy while you eat, from arts and crafts to henna tattoos.
Then over to Castle Place to enjoy music, dance performances and circus skills before finally stopping off in Main Street to meet some farmyard friends at the Petting Zoo and enjoy some drumming action to boot – it's going to be a busy day!
Looking ahead to the event, Chair of the Strabane BID, Kieran Kennedy said it would be a major celebration for the town.
"Strabane Summer Jamm is a fantastic opportunity to showcase the town centre and to bring people together for a community celebration like no other.
"Strabane BID are collaborating with businesses on a Love Strabane event, bringing the customer the very best of what Strabane has to offer as well as one off promotions so we're very excited about that.
"It's always a busy day for local business, and a great platform for local traders who have the opportunity to let new customers sample some of our amazing local products.
"It's wonderful to be able to bring people back out onto the streets to enjoy arts, culture and entertainment and a return to the busy and vibrant Strabane we all love."
You can find out more about the full Strabane Summer Jamm programme at: https://www.derrystrabane.com/summerjamm
Tags: