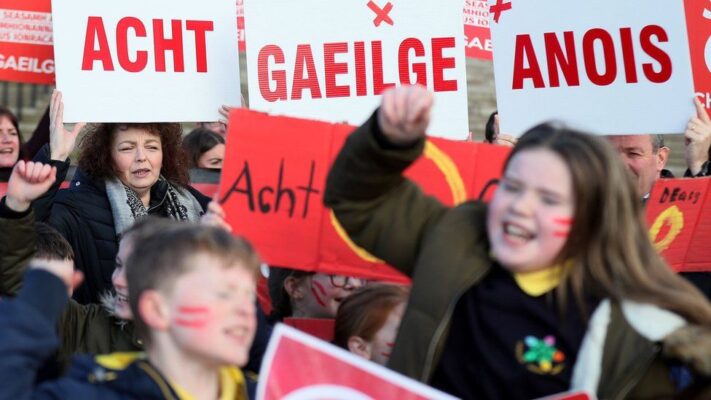 Long-awaited Irish language and Ulster Scots legislation will be introduced at Westminster later today, Wednesday, May 25.
Legislation on a cultural package had been expected before the end of the last assembly mandate.
It was part of the 2020 New Decade, New Approach deal that restored Stormont's institutions.
The bill will provide "recognition and protection" of Irish language and the Ulster British tradition.
The government is expected to introduce the legislation in the House of Lords first.
The legislation will give the Irish language official status, allow the use of Irish in courts and see the appointment of Irish and Ulster Scots/Ulster British commissioners.
The Identity and Language (Northern Ireland) Bill will also establish an Office of Identity and Cultural Expression.
Speaking ahead of its introduction, British Secretary of State Brandon Lewis said it represented a "significant milestone" for Northern Ireland.
"This legislation is carefully balanced, as negotiated by all parties, to ensure everyone in Northern Ireland benefits," he added.
"Not only will the legislation faithfully deliver on the measures within New Decade, New Approach, it will also, importantly, ensure the principles of respect and tolerance, as stated in the Belfast (Good Friday) Agreement, continue to be realised."
Irish language group Conradh na Gaeilge has cautiously welcomed the development, describing it as "historic" and "a significant staging post," but called for the immediate appointment of a commissioner.
"That is now the immediate litmus test for the British Government. Having legislation is one thing, acting on it is the real test," advocacy manager Conchúr Ó Muadaigh said.
"Without that immediate action this legislation won't be worth the paper it is written on."
The legislation has been delayed for months with the government initially agreeing to pass the bill at Westminster last autumn, to resolve a Stormont split on the issue.
Tags: