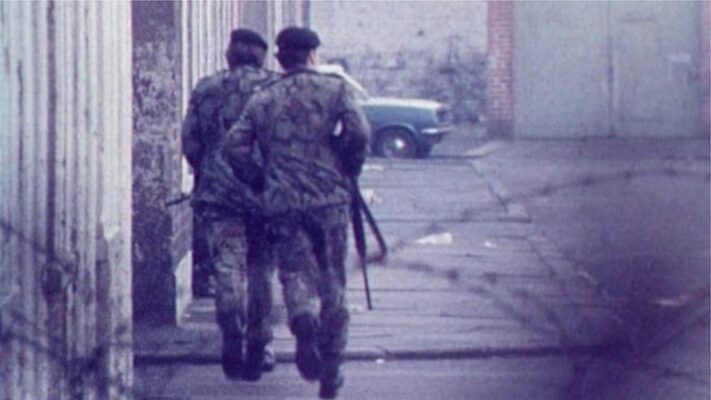 MPs are due to have a first opportunity on Tuesday to debate a government bill addressing the legacy of the Troubles in Northern Ireland.
At the same time, some victims' groups will stage protests in Derry and Londonderry.
A letter will also be delivered to Downing Street, opposing the legislation.
The Northern Ireland Troubles (Legacy and Reconciliation) Bill was laid before parliament last week.
It proposes replacing police investigations and court cases with an information recovery body which would offer immunity to those who co-operate with reports for victims' families.
Conditional immunity from prosecution is a change to the blanket amnesty approach initially proposed last year.
All five main political parties in the North of Ireland have criticised the legislation, as have the Irish government and victims' organisations.
However, it has got the backing of military veterans and their supporters.
The bill will have its second reading in parliament on Tuesday, which gives MPs a chance to debate its main elements.
It would then move to committee stage, with suggestions getting the legislation into law could be a process taking about six months.
The British Government has a working majority of more than 70 and passing the legislation would be seen as honouring a 2019 manifesto commitment to protect Army veterans from prosecution for historical offences.
Two groups in the North of Ireland groups which represent many victims of Army shootings – Relatives for Justice and the Pat Finucane Centre – have organised protests against the bill at Guildhall Square in Derry and at the Northern Ireland Office in Belfast.
Members of some bereaved families will also travel to Westminster to hand in a letter at 10 Downing Street.
The NI Human Rights Commission said the bill was "substantially flawed" and incompatible with the European Convention on Human Rights.
"We have not had an acceptable amount of time or prior consultation to enter a detailed written response today, but having worked over-time and at speed we are sure that this bill is substantially, in fact almost certainly fatally, flawed," chief commissioner Alyson Kilpatrick said.
"We will, as soon as able, publish our detailed analysis but draw attention immediately to the incompatibility with Article 2 of the European Convention on Human Rights and therefore the breach of the Human Rights Act 1998 that will surely follow."
SDLP leader Colum Eastwood said the bill was an "affront to justice".
"This is just an attempt to close down all investigations and all civil routes for people to find truth and justice," said the Foyle MP.
"It is cruel and it is wrong, and it is just what we have come to expect from this British government."
Tags: