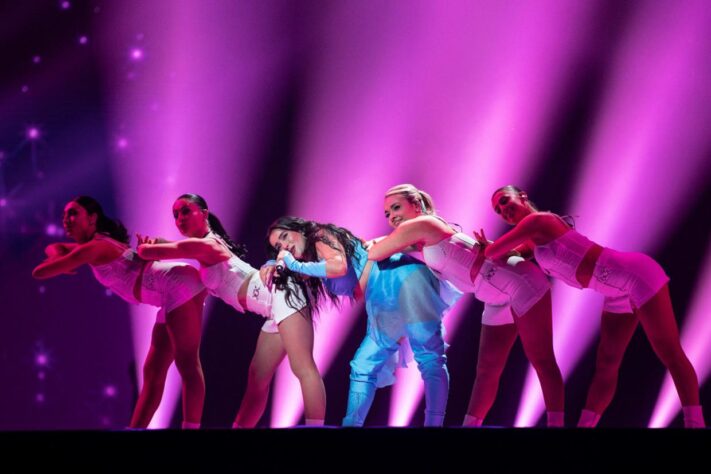 It's the end of the road for Brooke Scullion's journey to the Eurovision Song Contest final.
The 23-year-old singer touched down in Turin in Italy earlier this week to perform on yesterday evening's semi-finals of the prestigious song contest in the hopes of being crowned winner on Saturday.
The Bellaghy singer's dreams were, however, sadly cut short when she failed to make the shortlist of 10 countries continuing the competition.
Brooke took to the stage to perform her second ever track, That's Rich — which was co-written by Brooke, Karl Zine and Izzy Warner — to an estimated global TV audience of 183m people and against 17 other countries competing.
Her explosive performance — complete with pink strobe lights and fireworks — however, failed to stand out to the televised audience of voters despite hearing roars of cheers from the crowd during her song.
Prior to the competition Brooke said that she received advice from the likes of Louis Walsh and Dana, as well as being honoured with a 'Brooke special' pizza in her hometown.
Among the other famous faces to wish her well on the run-up to the competition was her fellow Derry Girl Jamie-Lee O'Donnell.
After feeling almost written off as a novelty act within the competition, Brooke said her performance was "turning heads in Italy", as there were "not as many pop songs this year".
Ireland first entered the Eurovision Song Contest in 1965 and gained much success in the competition in the 1990s when it famously won four out of the five contests.
It was also the first country to win three times in a row.
To date, Ireland has been crowned the winner of the Eurovision Song Contest a record seven times in total to date.
The last win was back in 1996 — Eimear Quinn with The Voice.
Despite not getting through to the Eurovision finals this year, it has certainly not deterred the Co Derry singer as Brooke admits she has "big plans" for the weeks and months ahead and will soon be creating new songs with her former mentor and All About That Bass star Meghan Trainor.
She was part of Meghan's team when she appeared on The Voice UK in 2020 where she finished in third place and immediately dropped her debut single, Attention.
It was recorded, produced and the video shot remotely on the north coast while The Voice was on hiatus due to Covid-19.
Her second track That's Rich — which brought the talented singer to Eurovision — was a song written about her struggles making it as a singer-songwriter.
She said previously: "I only started writing music last January after The Voice. Back then, there were no career prospects for me whatsoever, as I had no existing music repertoire to fall back on or to approach labels with.
"I also couldn't make money from singing, as restrictions were still in place — so there was no way for me to work as an artist. Because of that, I went headfirst into writing, which was great because I had no expectations for myself. That's where That's Rich came about."
Representing the UK and Northern Ireland in Eurovision is 32-year-old TikTok star Sam Ryder from Essex.
The UK is among the Big Five countries — also including Spain, Germany, France and Italy — who do not have to qualify from the semi-final stage and gain automatic access to the final.
The UK was bottom of the Eurovision leaderboard in the past two contests, coming last in 2019 with Michael Rice's Bigger Than Us, and James Newman's Embers scoring 'nul points' in 2021.
Tags: