High YouTube views and Spotify streams for the sassy pop belter have boosted her profile and Brooke is proving to be a hit among her fellow competitors, but she says she was disappointed with the lack of support the song has received on Irish radio.
Speaking via Zoom on Tuesday, the 22-year-old native of Bellaghy in Co Derry said, "I would love more radio airplay; I think that would definitely help my chances.
"Radio is really hard to crack. Eurovision is definitely going to make people more aware of who I am, and the song will get more radio play this week but of course it would have been better to get it previously.
"All I can do is focus on the campaign from here on and in and of course it will be an excellent boost to get the song played on the radio," she added.
"The North has been very good and it's starting to get a lot of play on RTÉ. Rylan Clark played it twice on his show so that's great. Mika was playing it in his car, and he didn't play anyone's else's song! Mika, who I grew up with."
Following Ireland's lacklustre performance at Eurovsion in recent years which saw us struggle to get beyond the semi-finals, Brooke says she tries not to let the pressure get to her.
"The only pressure I feel is the pressure I've put myself under. We always send a ballad and maybe that isn't the right formula," she says.
"Maybe we need to send something new and different and fresh that captures people's attention.
"I think people are taking Ireland quite seriously and are threatened in a way that we might qualify. There is a good buzz and the North can vote which means we are in an even better situation again.
"The song is getting a lot of recognition and we are in a healthy place. Provided that takes off, we could actually get into the grand final for the first time in a long time."
Asked if she has a routine to prepare for her performance on Thursday, the firecracker pop star said, "My vocal coach is here and she has me under lock and key and she runs a tight ship and before I take to the stage on Thursday we'll be doing nearly like meditation.
"She takes me through breathing exercises and visualisation. I was told I should always do ten press-ups before I go on stage so maybe I'll try five!
"The rehearsals have been quite full-on, a different level of intensity than I'm used to. It's a good learning curve getting on stage and singing as much as possible before the real show."
As ever with Eurovision, the staging is all-important and since arriving in Turin, Brooke has spent most her time rehearsing ahead of her big moment on Thursday.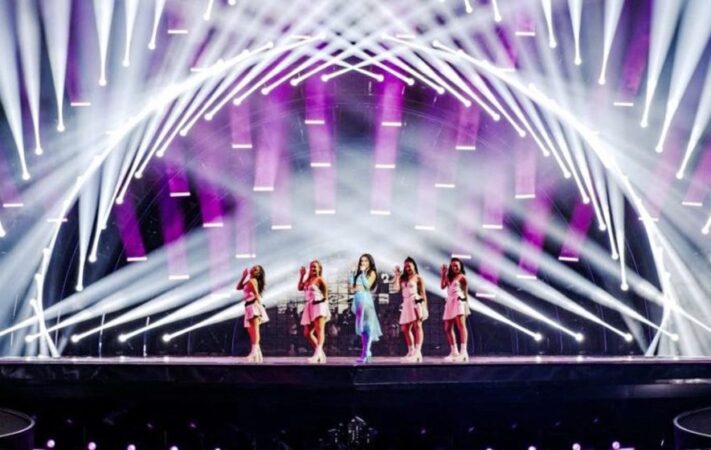 "We just lived and learned and realised that camera angles and playing to the people at home and giving the arena a really good show is what we're focusing on," she says.
"A lot of people have put a lot of work into this. Emer Walsh is a world-renowned choreographer and she's been helping me learn how to dance and she's done a great job."
Brooke added, "I can't guarantee any backflips, but you'll definitely see really slick choreography on the floor.
"Helen McCusker in RTÉ's Wardrobe department made my costume. It's kind of a mix between Powder Puff Girls and Wonder Woman because you have to be your own hero. That's Rich is about striving for independence and woman power."
The second Eurovision Song Contest semi-final airs on RTÉ Two from 8 pm this Thursday, May 12.
Tags:
Ireland's Eurovision Song Contest hopeful Brooke Scullion has appealed for more radio play for her song That's Rich before she performs at this Thursday's second semi-final in Turin.