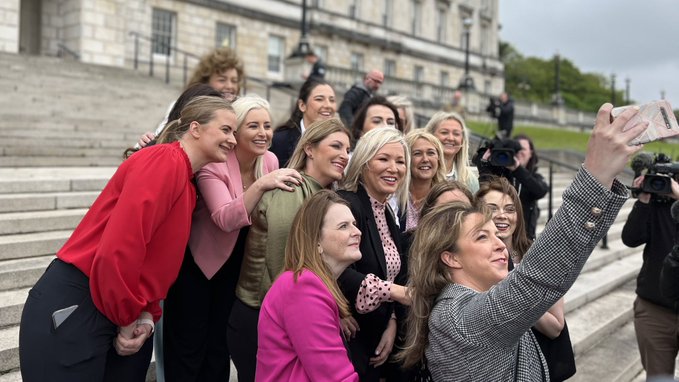 The DUP and British Government must accept and respect the democratic result of the Northern Ireland Assembly elections, Sinn Fein vice president Michelle O'Neill has said.
Ms O'Neill said there could be no delay to the restoration of the Stormont powersharing Executive and her nomination as first minister, following her party's election victory.
But DUP leader Sir Jeffrey Donaldson has stated that he will not re-enter the Executive without "decisive action" from the UK Government on the Northern Ireland Protocol.
This means that prospects of any quick return of the devolved powersharing Executive at Stormont are diminishing.
MLAs returned to Parliament Buildings on Monday and party leaders were also holding separate meetings with Secretary of State Brandon Lewis.
It came as Prime Minister Boris Johnson said he does not plan to be personally involved in the Northern Ireland talks and Downing Street played down reports of a Cabinet rift over the protocol.
Speaking to the media on Monday, Ms O'Neill said: "The people have spoken and they have spoken very clearly.
"The message is one of hope, it is also one of optimism for the future, for the political leaders to work together and to make politics work.
"That is my commitment as a political leader and as an incoming first minister.
"The electorate also demands that the parties get back down to business, to elect a speaker, to sit in the Assembly, to have it function, to appoint a first minister and a deputy first minister, to form a new Executive."
She added: "Today we have met with the British Secretary of State, have spoken with the Taoiseach and will be engaging with other party leaders and my message is clear.
"As democrats, the DUP, but also the British Government, must accept and respect the democratic outcome of this election.
"Brinkmanship will not be tolerated where the north of Ireland becomes collateral damage in a game of chicken with the European Commission.
"Responsibility for finding solutions to the protocol lie with Boris Johnson and the EU.
"But make no mistake, we and our business community here will not be held to ransom."
Tags: