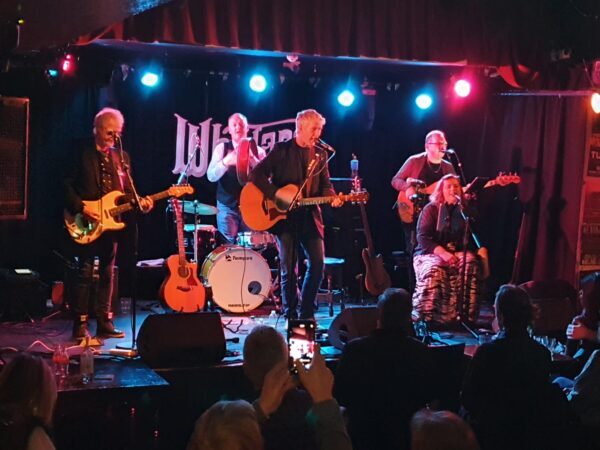 THE public will have the chance to enjoy two hours of the very best of John Prine's songs when Illeagal Smile take to the stage at the Alley Theatre on Saturday 14th May.
When John Prine passed away in 2020 due to Covid-19 the world was bereft at the passing of a multi-Grammy award-winning artist, widely revered as one of the most gifted American singer-songwriters of our time, with the ability to channel humour and heartbreak into his observations on the human condition in all its characteristics from the cradle to the grave.
John was no stranger to Ireland as his wife Fiona is from Donegal and they lived on and off in Kinvara in Galway.
'Illegal Smile (Ireland)' are a 5-piece band from the North of Ireland and are without doubt the foremost aficionados of John Prine's music in Ireland.
They do not set out to look or even sound like John Prine, rather they skilfully reproduce his songs with integrity, sincerity and with the musical skill that listeners associate with John's songs.
Barry Johnston on acoustic guitar and main vocal is well known for playing in the travis picking style of John Prine, with support from Conor Forbes – one of Strabane's finest acoustic guitar players.
Sam Davidson is one of Ireland's finest lead guitarists, producing subtle and effective support and magnificent lead breaks, while Davy Neill on bass brings a superb American Country backline.
Michael Conway on drums and percussion adds a special magic to the show, and Ali Mooney has the voice of an angel, not only adding to the bands wonderful harmonies but also covering several songs in the set.
Enjoy two hours of the very best of John Prine's songs in the company of Illegal Smile including the classics Sam Stone, Hello in There, Angel From Montgomery and Lake Marie.
Tickets are £15 available from the Alley Theatre Box Office on 028 71 384444 or book online at: www.alley-theatre.com
Tags: