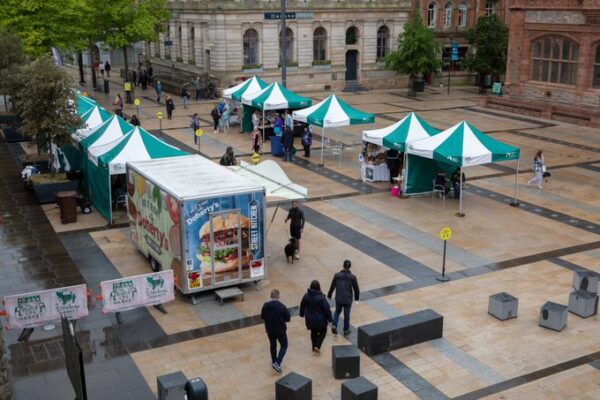 There will be some tasty, freshly-baked goods on sale at this weekend's Walled City Market, courtesy of the catering students from North West Regional College.
The markets return to the Guildhall Square this Saturday 7th May from 11am to 5pm as extended trading hours kick in for the summer period.
As well as many local businesses selling a wide variety of products, there will be a stall for NWRC's Level 2 Pastry and Level 3 Patisserie students to sell their sumptuous and succulent baked goods.
Derry City and Strabane District Council are teaming up with NWRC to assist the students who are currently completing project-based learning by selling products produced in a realistic working environment.
By taking part in the Walled City Market, students will have the opportunity to interact with customers and gain feedback on the items that will be baked in the NWRC kitchens.
Mayor of Derry City and Strabane District Council, Alderman Graham Warke, said it will be a great opportunity for the students to learn more as well as being able to show off their skills to a wider audience.
"We are delighted to have some of the catering students from North West Regional College joining us at this month's Walled City Market.
"This will give them all a real-life experience of selling their products and getting feedback directly from customers about what they like and what learnings they could possibly take away," he said.
"It's fantastic that we can shine a spotlight on fresh, local goods and on the talent of our local students and give them more confidence as they progress with their studies.
"Hopefully we will see them back at the markets at a future date selling delicious treats through their own businesses!"
Nicolle Walters, Council's Markets Development Officer, added: "We are really pleased to be working with NWRC on this month's Walled City Market in an experience that we hope that will be really beneficial for the students.
"In preparing for this market, they are ensuring their offering will meet Food Safety requirements such as food labelling for pre-packed for direct sale foods, whilst considering environmental issues by limiting the amount of single use plastic used.
"It's also an invaluable opportunity for them to gain experience on how to start a business, as we know that many of local restaurants started trading from a stall or mobile trailer.
"With the longer market hours now kicking in for the summer months and live music from 11.30am to 4pm on Saturday as well, it's going to be a great atmosphere and another chance for everyone to shop local and support local with all of our fabulous traders."
Annette Smith, Project Based Learning Co-Ordinator, North West Regional College added: "North West Regional College is delighted to have been invited to showcase a Project Based Learning initiative at the Walled City Market, involving Level 2 and Level 3 Hospitality and Catering students who have been working tirelessly recently in preparation for the event.
"The students are excited to have the opportunity to sell a range of baked produce including pastries, breads, meringues and cakes, and the event promises to be a great learning experience for everyone involved."
It is hoped that the Strabane Markets will reopen in June in conjunction with Summer Jamm, and Council are welcoming applications from anyone looking to trade in the Strabane area.
If you would like to trade at the Walled City Market or at the Strabane Market, you can fill out the application form available at: https://www.derrystrabane.com/Subsites/Walled-City-Market/Get-Involved
This month's Walled City Market will take place in Guildhall Square on Saturday 7th May from 11am to 5pm.
Tags: