Mr McIntyre, who is considered one of the greatest jazz musicians Ireland has produced, died in October last year.
In a career spanning 70 years, the alto sax and clarinet player performed with some of the greatest names to grace the world of jazz including Acker Bilk, Louis Stewart and Nat King Cole.
"This festival exists because of my father," Paul McIntyre said.
"My dad put his mark on the city in terms of his music and in terms of all those people he taught and nurtured here," Paul told BBC Radio Foyle.
"He was able to play at a level – if not above – those guys that were all coming in here from England and elsewhere where they all lauded him."
The festival opener in Derry's Guildhall was staged on what would have been Gay's 89th birthday.
Paul, a jazz musician himself, performed to a packed-out Guildhall, where he and fellow jazz musicians played some of his late father's music.
Gay's family said it was very important for their family that the festival returned in its full format because it was part of his father's legacy.
Speaking to BBC Radio Foyle on Friday, Aeidin McCarter, head of culture at Derry City and Strabane District Council, described the event as "special and poignant" for Gay's family.
"The opening of the festival is always the local legends event that Gay McIntyre would have headlined.
"Last night was special for all sorts of reasons, but particularly because it was the first without Gay," Ms McCarter said.
Tens of thousands of people are expected to attend Northern Ireland's biggest jazz festival over the weekend.
Ms McCarter said the festival can generate up to £2m for the local economy and has high hopes live music events will help bring more tourists back to Derry post-pandemic.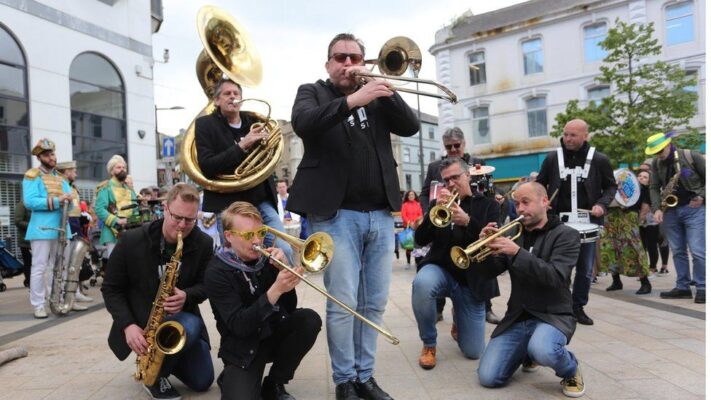 Both the 2020 and 2021 festivals were scaled back and moved online because of the Covid-19 pandemic.
This year marks the festival's 21st birthday and organisers promise more than 400 performances across a number of venues in the city.
Among the highlights in the festival programme are the National Youth Jazz Orchestra's celebration of Amy Winehouse, a jazz parade through the streets of Derry, and a host of open air performances.
First-time festival performers include guitarist Tom Ollendorff, Luke Thomas and the Swing Cats, Hyde Park Brass and King Pleasure and the Biscuit Boys.
Tags:
The City of Derry Jazz and Big Band Festival opened on Thursday with a tribute concert to Gay McIntyre.