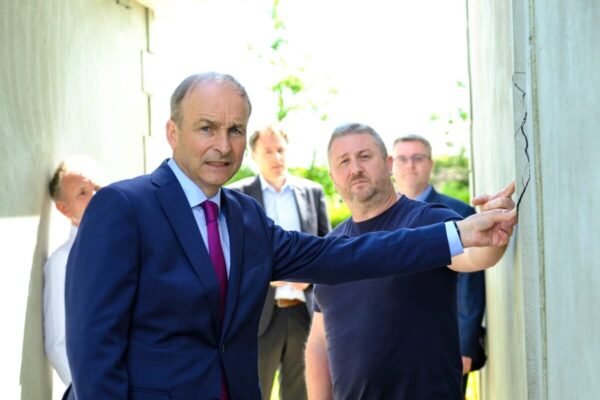 Mica redress campaigners have planned two protests this weekend during Taoiseach Micheál Martin's visit to the North West.
The Fianna Fáil leader is attending events in Derry and Letterkenny this Friday and Saturday.
This Friday evening, April 1, holiday homeowners left out of the Mica scheme are mobilising to protest outside the Playhouse in Derry.
Mr Martin will be the keynote speaker at an event organised by the John and Pat Hume Foundation.
The Letterkenny protest is scheduled for 11.45 am this Saturday, April 2, at the Radisson Blu Hotel in Letterkenny, where Mr Martin will be attending the Letterkenny Chamber President's Lunch at noon.
Mica homeowners, frustrated with a lack of progress and a lack of answers on the enhanced scheme, plan to make their voices be heard by gathering outside the events.
PRO of the Mica Action Group Michael Doherty said, as of Tuesday, no invitation was issued to homeowners for a meeting.
He said a request, made through Minister Charlie McConalogue earlier this month, was unanswered. It is understood that a meeting with the Taoiseach was then offered after the protests were announced.
Mr Doherty said the aim of the protest is to ensure homeowners are not ignored and that their 13 pages of unanswered questions are answered.
"It will not be speeches. It will be a dignified protest. I would call on as many people to get out on Saturday and be there and be counted," he said.
"I've never seen more frustration from people at this point in time. Let's do something useful with that frustration."
Tags: