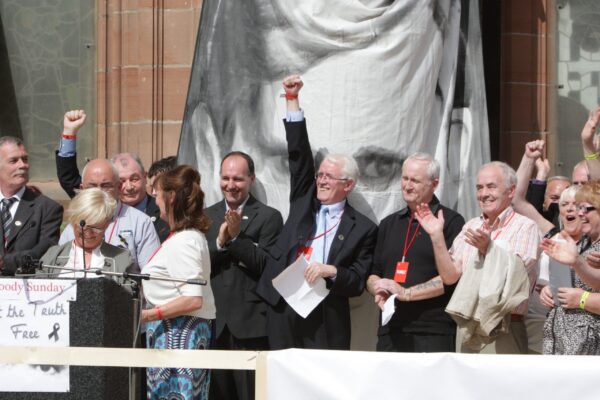 THE brother of man shot dead on Bloody Sunday has said he will never apologise or give any undertakings after he faced legal action for identifying the British soldier who killed him.
John Kelly was speaking after the Attorney General's Office confirmed he will not be prosecuted for contempt of court amid allegations he identified Soldier F on social media.
Mr Kelly and several others had been told Attorney General Brenda King was considering whether to commence contempt of court proceedings after material identifying the former British soldier was circulated on social media last year despite an anonymity order being in place.
Mr Kelly's brother Michael was one of 14 innocent Catholic men who died after being gunned down by members of the Parachute Regiment during a civil rights march in Derry in January 1972.
There was controversy last year after a prosecution against the former British paratrooper and another soldier was stopped.
Soldier F had faced two murder charges in respect of the Bloody Sunday killings of William McKinney and Jim Wray.
SDLP leader Colum Eastwood later used parliamentary privilege to identify Soldier F during a Westminster debate.
Others contacted by the Attorney General's office include human rights lawyer Ciarán Shiels, Causeway Coast and Glens councillor Padraig McShane, Derry and Strabane independent representative Gary Donnelly and Mr Eastwood.
Mr Kelly's legal team have received confirmation that he will not be prosecuted.
Speaking to The Irish News, Mr Kelly said he was never going to apologise or provide any undertakings in relation to identifying Solder F.
"This Soldier (killed) Michael and if I was to apologise or give any undertaking I would be letting Michael down, my family down and everyone down," he said.
"There is no way I was going to apologise or give an assurance."
Mr Kelly said Soldier F's name and that of other paratroopers have been known for years.
"It's a situation whereby it's only right that I should put his name up and let people and the world know exactly who this guy is," he said.
Mr Kelly said legal action against him should never have been considered.
"Even for them to actually think about prosecuting me for doing so is totally outrageous," he said.
"This is my brother who was (killed) by this guy and it was only right that people should know who he is."
A spokeswoman for the Attorney General's Office said: "The Attorney has a duty to consider bringing contempt proceedings in the circumstances to which you refer."
Tags: