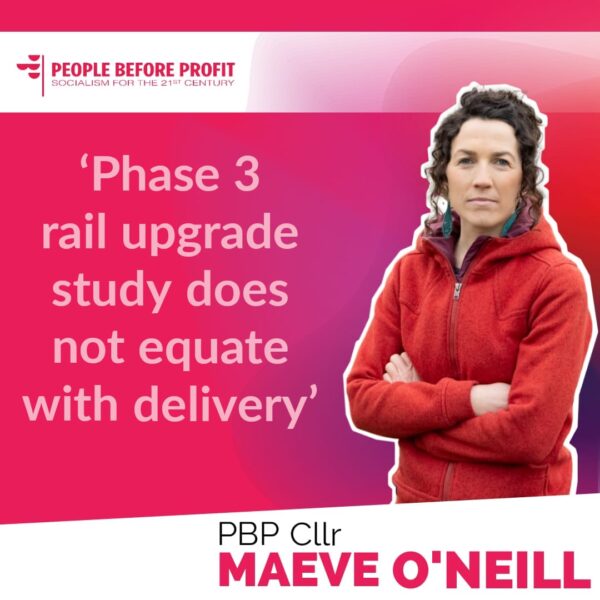 PEOPLE Before Profit Councillor Maeve O'Neill has said a study into the Phase 3 upgrade on the Derry to Coleraine railway line doesn't equate with delivery.
Said Cllr O'Neill: "On the back of massive people power climate actions, the demand for rail expansion has grown louder and more powerful right across the island.
"The political establishment is now under pressure and under the spotlight to actually deliver.
"We have made clear our disappointment at the criminal delay of the Phase 3 Derry-Coleraine rail upgrade. It was suppose to have been completed last year.
"Therefore, while we welcome Minister Mallon's announcement that yet another feasibility study has been completed – it doesn't equate with delivery.
"This is another example of a Stormont Minister attempting to cram 5 years of promises into the final 3 months of a mandate. It's just too little, too late.
"Derry and the North West has decades of promised infrastructure upgrades from Stormont Minister's that never come to fruition. It's not that long ago that they attempted to completely shutdown rail in Derry.
"The SDLP Infrastructure Minister says she's committed to taking action to stop destructive climate change but her record speaks otherwise.
"Corporate gouging of Lough Neagh has been greenlighted.
"Toxic mining of the Sperrins has been moved forward. The 1967 Mineral licensing policy has not been updated.
"Third party right of people in planning has been blocked. No decisive action has been taken to clean-up Mobuoy dump on the outskirts of the city. There's a huge gulf between rhetoric and action.
"The reason why the SDLP and the political establishment can't follow through on climate emergency pledges is because they're tied to a system that puts profits for elites and corporations before people and planet.
"To see rail prioritised as the main form of public transport in Derry and across the island we need to build a real alternative based on people power action."
Tags: