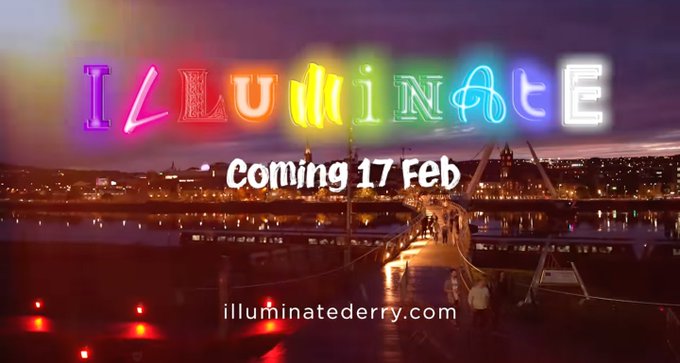 MEMBERS of Derry City and Strabane District Council's Business and Culture committee has heard more about the programme for the upcoming Illuminate festival at their monthly meeting.
The festival will take place over two weekends in February, from the 17th to 20th, and from the 24th to 27th with activities from 6pm to 9pm each day.
Aeidin McCarter, Council's Head of Culture, informed members that there will be three main elements to the festival – an illuminated trail of light, an intimate music programme, and a series of live illumination experiences.
Funding for this iconic celebration of the Walled City has been secured from Tourism NI through its Market-Led Development Programme for Local Authorities.
The fund is part of the Embrace A Giant Spirit campaign which pledges to create authentic and innovative experiences that will provide more reasons to travel to and within Northern Ireland and to enhance and animate the experience for visitors from NI and ROI.
Ms McCarter explained that the primary focus of the event is to have a crowd friendly circuit of the city that enables people to enjoy a variety of locations and experiences safely and at their leisure.
Members heard that the live projection shows will use digital projection and live animation to bring six iconic locations to life by telling key stories linked to the city's Heritage Story plan.
The illuminated trail of light will consist of walkabout installations, static installations, music, projections, and soundscapes, while the music programme will involve six intimate gigs of well-known artists in unique locations.
Members also heard about the extensive marketing campaign that has taken place ahead of the festival.
Chair of the Business and Culture committee, Cllr Conor Heaney, said: "The Illuminate festival is the first of an excellent festival and events programme that we have planned in the city and district this year.
"Our council officers have been working extremely hard on this programme and the installations, music programme and light trail will be spectacular to see and will celebrate our history.
"It was encouraging to hear more about the extensive planning and the health and safety protocols in place to make sure we can have people on our streets enjoying this festival in a safe manner, and we look forward to the festival taking place later this month."
You can watch the February meeting of the Council's Business and Culture committee on the Council's YouTube channel at: bit.ly/DCSDCYT
For more on the Illuminate festival visit: illuminatederry.com
Tags: