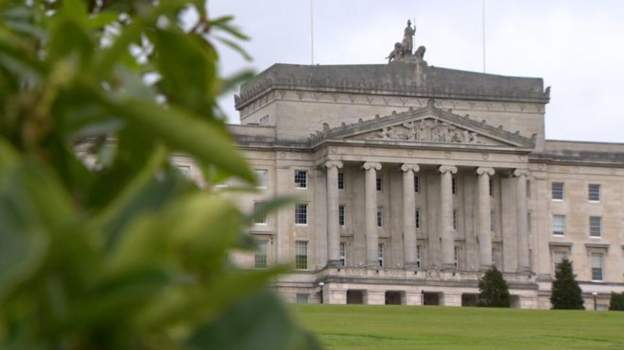 BRTISH Secretary of State Brandon Lewis has ruled out calling an early Assembly election at Stormont.
Sinn Féin and the DUP had called for him to bring the date forward from Thursday, May 5, after the power-sharing Executive collapsed last week.
Other parties had warned that an early election would affect legislation due to be passed by next month.
Mr Lewis said "it is right" that the election date remains May 5.
Speaking on Tuesday, Mr Lewis said it was close to the start of the formal election period already.
"The assembly under the new rules can continue to function, it's right we allow MLAs time and space to pass legislation, I'll be working to support the parties to do that and then we can have an election of 5 May," he added.
New laws to allow the Assembly to continue without a functioning Executive, which is Northern Ireland's government, were passed by MPs on Monday night.
Previously, Mr Lewis would have had a duty to set a date for an election if the roles of first and deputy first minister were not replaced this week.
Instead, he will be unable to call a fresh poll for six weeks.
By then the formal election period known as purdah will be due to begin.
The Executive can no longer meet after the resignation of the DUP's Paul Givan as first minister last week in protest against the Northern Ireland Protocol.
This is an element of the UK government's Brexit deal with the European Union (EU).
The Protocol keeps the North of Ireland aligned with the EU single market for goods as a means of retaining an open Irish border.
However, it has resulted in some additional checks for goods moving between Great Britain and the North of Ireland, prompting unionist criticism and the DUP's decision for Paul Givan to resign.
The party's leader Sir Jeffrey Donaldson said it would be difficult for the DUP to form an executive post-election if issues around the protocol, which are being discussed between the UK and the EU, are not dealt with.
Mr Givan's departure also caused Sinn Féin vice-president Michelle O'Neill to lose her position as deputy first minister.
The Assembly is still meeting, with remaining pieces of legislation progressing through various stages, but no new policies requiring Executive approval can be taken forward.
On Tuesday, Ms O'Neill said her party had been planning for the election to be on May 5 and urged parties to work together to "to salvage what we can from the DUP's mess".
She said extra sitting days and reducing speakers could help to speed up the passage of legislation before the term runs out.
Tags: