The 23-year-old primary school teacher was attacked and killed on the banks of the Grand Canal in Tullamore, Co Offaly last Wednesday in what a senior church figure described today as a "depraved act of violence".
Her parents Raymond and Kathleen, her sister Amy, brother Cathal and boyfriend Ryan are among the chief mourners at the mass at St Brigid's Church in Mountbolus.
Parish priest Fr Michael Meade is the chief celebrant at this morning's mass.
In his homily, he told Ashling's family and her boyfriend that they "have been robbed of your most precious gift – a gift that gave only joy and love, fun and laughter to many beyond your family."
He added: "The issues raised in many ways and by many voices since this horrible act of violence invaded all our lives will, we pray, continue to evolve and bring the change we need so much, to simply give and show respect."
Fr Meade added that today "we give thanks for the privilege of sharing in this most wonderful gift of Ashling Murphy, today we share our love, our grief, our faith and our comfort with the Murphy and Leonard families."
Symbols of Ms Murphy's life were brought to the altar, including a fiddle, a Kilcormac/Killoughey camogie jersey, a family picture, a school book and her photo.
Tom Deenihan, Bishop of Meath, told how Ashling's family have been plunged into "a nightmare" following her horror slaying.
Speaking at the funeral Mass, Bishop Deenihan said: "I would like to offer a few words of sympathy and support, on behalf of the people and priests of the Diocese of Meath, to Ashling's family and friends.
"The past few days have been a nightmare. A walk on a mild and sunny afternoon in January should be a happy event, promising the brighter and warmer days of spring and summer.
"That, as we know, was not the case. A depraved act of violence which deprived a kind, talented, loved and admired young woman of her life has since united the country in grief and support."
As the Bishop spoke of the Murphy family's shocking loss, the senior churchman also called for more to be done to tackle violence against women.
Bishop Deenihan said: "The crime has also asked questions of ourselves and of society.
"It has questioned our attitudes and, particularly, our attitudes towards women and it has questioned our values and our morality.
"Whether those questions will be addressed or passed over remains to be seen but we cannot allow such violence and disregard for both human life and bodily integrity take root in our time and culture.
"Pope Francis in his homily for New Year's Day just two weeks ago said that violence against women was an insult to God.
"We all know that no individual should die like Ashling and no family should suffer like Ashling's.
"Respect is an old-fashioned word but it is an important one. Respect was missing last Wednesday but it has re-emerged here all the stronger.
"Let us respect each other."
Ella Flaherty, a childhood friend of Ashling's, was among the musicians who performed at the funeral mass.
Her many friends from school, college, Kilcormac/Killoughey GAA club and Comhaltas Ceoltóirí Éireann also attended.
Ms Murphy was also a member of Ballyboy Comhaltas.
Local musicians, many of whom Ms Murphy played with throughout the years, provided the music.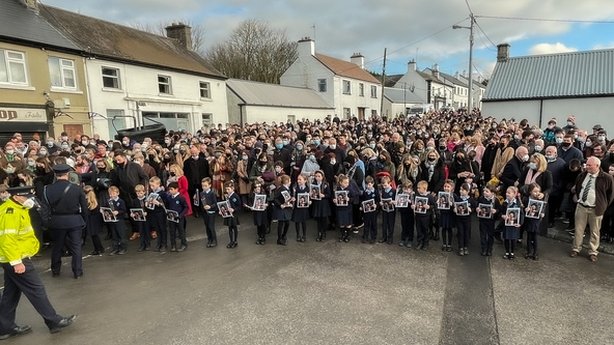 In a post on her Facebook page, Amy Murphy described her sister as the "light of our lives and heart of the family" and asked on behalf of the family that "any musicians attending please bring their instrument and play music at lower town cemetery after mass should you wish".
Among the Prayers of the Faithful, read by Ms Murphy's cousins, was a call that "the many vigils that took place in memory of Ashling, mark the beginning of an end to violence against women".
Also in attendance are President Michael D Higgins and his wife Sabina, Taoiseach Micheál Martin who sympathised with the family before the mass began.
Minister for Justice Helen McEntee and Minister for Arts Catherine Martin are also among the mourners.
Ms Murphy's first class pupils at Durrow National School formed a guard of honour outside the church.
The children each held a photograph of her on her graduation day and a single red rose.
Teachers and pupils from Coolanarney National School in Blueball, where Ms Murphy went to school, will also form a guard of honour.
Ms Murphy will be laid to rest in Lowertown cemetery nearby, following the funeral mass.
Screens have been set up in Killoughey Community Centre and Kilcormac/Killoughey GAA pitch and Mountbolus village has been closed to traffic for the funeral.
Teacher unions asked schools across the country to observe a minute of silence in Ashling's memory at 11 am.
Tags:
MOURNERS at the funeral mass for Ashling Murphy were told that her family and boyfriend have been "robbed of your most precious gift".