STORMONT Executive ministers have agreed to cut the Covid-19 self-isolation period for positive cases from 10 days to seven, from this Friday, December 31
But this rule change applies only to people who can produce negative lateral flow tests on day six and seven.
First Minister Paul Givan confirmed the change in a tweet after ministers held a virtual meeting on Thursday morning.
During the meeting, ministers were told the Omicron variant accounts for about 90% of Covid cases in the North of Ireland.
The First Minister said the change in the self-isolation rule would apply retrospectively.
Mr Givan tweeted that the executive had agreed that no further coronavirus restrictions will be introduced at present, despite the rise in Covid-19 infections.
He said they would "continue to assess the data" and meet again on 6 January.
On Wednesday, the North's Department of Health reported a further 14 deaths related to Covid-19.
Between midnight on 23 December and midnight on 28 December there were 22,972 positive cases identified.
This was more than double the figure for the comparable five-day period in the previous week.
There were 277 patients with Covid-19 in hospitals in the North of Ireland on Wednesday, up from 256 on Friday.
The latest statistics on the rise of the Omicron variant was contained in the latest health paper put before ministers on Thursday.
The new seven-day self-isolation period brings the North into line with England, where the rule was changed just before Christmas to help businesses and public services managing a wave of staff absences.
Fresh restrictions came into effect on Monday in the North of Ireland to help curb the spread of the Omicron variant, including table service only in bars and restaurants, 2m social distancing in offices and guidance on household gatherings.
The advice around polymerase chain reaction (PCR) testing changed on Wednesday.
People have been asked to only book PCR tests when necessary, to ensure testing is available for those who need it most.
It was announced that fully-vaccinated people who are close contacts with a positive case should now take daily lateral flow tests for 10 days after their exposure.
A PCR test should only then be booked if a lateral flow result is positive.
Unvaccinated people should continue to self-isolate for 10 days, the Public Health Agency (PHA) said.
The agency's deputy director of public health, Dr Bríd Farrell, said the change was being made to "protect the testing system" amid high demand because of Omicron.
She said it was important to ensure "those who need to be tested by PCR can get it".
Previously, close contacts of a confirmed case of Covid-19 were told to self-isolate and get a PCR test, even if fully vaccinated.
Children under five years of age are no longer required to take a PCR test, even if they have symptoms like a cough or temperature, unless advised to by a doctor.
The PHA has encouraged parents to instead carry out a lateral flow test on children, and to only seek a PCR test if the lateral flow returns a positive result.
Dr Frances O'Hagan of the British Medical Association (BMA) said the transmission rate of the virus was "now rocketing across Northern Ireland".
Speaking on BBC Radio Foyle ahead of Thursday's executive meeting, she said ministers faced "a difficult decision"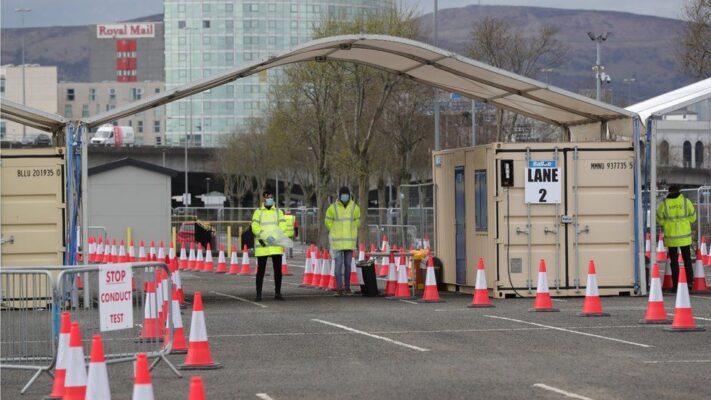 "I would like to see measures to keep us safe, but I do not know how they are going to do that, I do not envy their task," she said.
The number of Covid cases is "now so vast" that "we are really compromised across healthcare," Dr O'Hagan explained.
She said GP surgeries were under more pressure than at any other stage during the pandemic.
"We have so many people off waiting to get results, because they have been close contacts or because they have it themselves. It is really difficult to keep the show on the road," she said.
"This is the most difficult we have found it in the whole pandemic because this variant is so transmissible."
Tags: