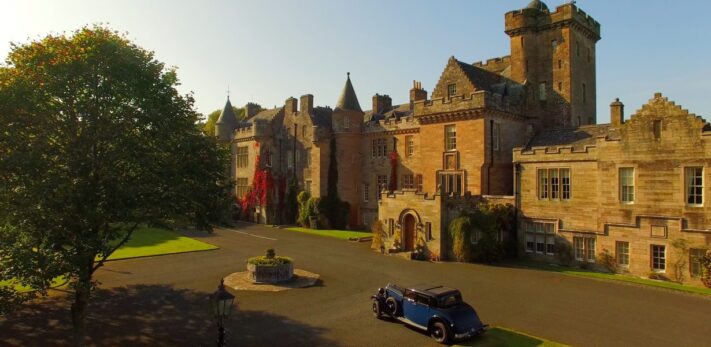 BY TIM HEDGLEY, GROUP TRAVEL EDITOR
I have visited many hotels in my 30 odd years as a Travel Editor, some good, some amazing and some awful.
Still, overall, I have enjoyed my visits immensely and have met some beautiful people.
Last week I went for a two-day pre-Christmas break at Glenapp Castle located in Ballantrae, a mere 7 miles from Cairnryan port.
Glenapp Castle is an outstanding Scottish Baronial style castle with magical towers, turrets, and crenelations that beckon you as soon as you see its majestic footprint on the beautiful Ayrshire coast.
Once inside this luxury 5-star castle hotel, a world of Victorian splendour is immediately thrust upon you.
Oak panelled halls lead to the heart of this truly excellent castle hotel, which offers stunning views out to the famous volcanic outcrop of Ailsa Craig.
Beyond that, you can see the Isle of Arran, Holy Island, and, on a clear day, the hills of the North Antrim Coast.
Our bags were spirited away by the concierge, and we were led up the oak staircase towards the reception, hearing a pleasing creak of the floorboards beneath the plush carpet.
At the top of the stairs, you emerge into the formal drawing-room, which transports you back to an era when the Castle and surrounding estate was steeped in a rich history.
The Glenapp Estate was already well established under the ownership of the Earl of Orkney when the industrialist, James Hunter (later to become the Deputy Lord Lieutenant of Ayrshire), acquired it and commissioned in 1870 the celebrated Edinburgh architect, David Bryce, to design a suitably magnificent home for him.
Bryce was a leading proponent of what came to be known as the Scottish Baronial style: combining elements of the Gothic and Renaissance design to create the grandeur and fairy-tale appearance we know and recognise today.
The Castle's mellow sandstone battlements, topped by soaring turrets and towers, have earned Glenapp a rightful place as one of Scotland's most romantic luxury castles.
The Castle has extensive wood panelling throughout, and many of the ground floor rooms are decorated this way, particularly the library, which is panelled from floor to ceiling.
Dark studded leather sofas, parquet flooring, an oxblood ceiling, and matching drapes along with some fantastic antiques make this a most acceptable room to have an after-dinner whiskey or two.
Most of our afternoon was spent in the vast drawing-room that forms the hub of the Hotel, and it's off here that you would venture to the two dining rooms and up the glorious staircase to the bedrooms. The drawing room consists of two large, connected rooms, one with an open fire and sink-into sofas and the other with more formal armchairs and a baby grand piano. The resident pianist comes in typically Monday, Wednesday and Fridays.
The gothic ceiling in the drawing-room is a real eyecatcher, and you can sink into a sofa and marvel at how the craftsmen and women performed such magic with plaster. Antique side tables and stunning works of art also make this an after-dinner space to chat and while away the afternoon, leafing through some magnificent books.
Off the drawing room are the two dining rooms, and I can tell you this is a space where some magic happens.
If you dine at Glenapp, and I hope you do, please consider a pre-dinner drink in the drawing-room beforehand as it sets off the start to a fantastic evening.
There is no requirement for formal attire, but the way I look at it is this. If the staff have bothered to dress smartly, then at the very least, you should be concerned to reciprocate.
Fine dining at Glenapp Castle's award-winning restaurant is a truly unique experience. Whether you choose the six-course dining experience or the 'Taste of Glenapp' at a very reasonably priced £75.00 or the three-course menu at £55.00, you will undoubtedly have your taste buds tickled.
The restaurant's six-course gourmet menu includes canapés, coffee, and petits fours, allowing you to watch the sunset over Ailsa Craig, the Mull of Kintyre, and across the beautiful Ayrshire coastline.
Whatever the occasion or time of day, dining at Glenapp Castle is a culinary experience not to be missed. I started my dinner with Roasted Hen of the Woods, Celeriac & Truffle sauce, and Rosemary Pickled apple. Hen of the Wood is also known as Maitake and is one of the most used mushrooms in Japan. Due to the Volume of Mushrooms that can be found, it is also called the King of Mushrooms. I then had a delicious Amuse Bouche of Celeriac Volute with Balsamic Jell. For my main course, I had pan-fried Loch Duart Salmon, English Peas, Broad Beans Pickled Cucumber, Saffron Rouille with Champagne Buttermilk Sauce.
And for dessert has a selection of fine Scottish and European Cheeses. The meal and experience were exquisite. Having grown up as a next-door neighbour of Jay Rayner in London, all I can say is make sure you visit, and you will be suitably impressed. The magic performed by Joe Gould, the executive chef, was genuinely amazing. Joe joined Glenapp from Fishmore Hall Hotel & Spa in Shropshire and won the Chaîne des Rôtisseurs UK Young Chef of the Year award in 2015. Interestingly £2 from every bill in the dining room is donated to "A Call to Business", which is a UK charity that has been actively engaged in Sierra Leone for the past 13 years. A Call to Business embarked many years ago in community development in an almost entirely Muslim rural area of Sierra Leone where tin-roofed huts and cooking on open fires remain the norm and where the basic human needs of education, clean water, and shelter were limited. Many years later, they have seen not only the establishment of a school, a home for disabled children, pastoral care, and community projects but also the emergence of an economic engine and activities. It's so nice to know that Glenapp is supporting such a charity.
The staff at Glenapp are exceptionally well trained, and they anticipate your every wish, attentive but not overbearing. They hover but not in an intrusive way and are well placed to offer you a fine wine from the cellar.
SO OFF TO BED
Countess of Inchcape and Ailsa Craig are Glenapp's premier second-floor 5-star bedrooms. Both are large rooms (25sqm) with stunning panoramic sea views across to Ailsa Craig, the Isle of Arran, and, on a good day, the coast of Ireland makes waking up in these premier second-floor rooms an absolute pleasure. My Bedroom, the Ailsa Craig, was simply breathtaking; it was literally located 40 miles from my home in Northern Ireland, but it felt a million miles away. I had to refer to my Sat-Nav to circumnavigate the bed, as it was huge. Usually, a standard or even king-sized bed would have two pillows on either side; we had Six pillows across the bed; it was that big!
The mattress was divine, and the furnishings exquisite, bathroom toiletries were by Phenalgin's. Luckily Phenalgin's have been scenting the great and good of society for 150 years and are rather well versed in the matter. You are sure to enjoy their fragrances which have been made for Royalty, inimitable icons, and modern concoctions alike. www.penhaligons.com. During the night, I heard nothing, not a door, a conversation, nothing it, was quite literally listening to the sound of silence. I had the best night's sleep and woke up to a view of Ailsa Craig; what a delight! Now Glenapp does not provide tea and coffee making facilities in your room; they go one better. Whatever the time of day or night, they will provide you with free Tea or Coffee delivered to your room, as Glenapp says it's all part of the service.
Rested
Well rested and awake, it was time for breakfast. I popped off downstairs, and into the dining room tables were beautifully set with crisp white tablecloths and fine linen napkin and cutlery placed, inch-perfect, the Villeroy & Boch coffee cup was eagerly awaiting my freshly ground Colombian Corsica Coffee.
The Breakfast menu covered two full A4 pages, and you could choose from 8 fruit juices, three types of fruit dishes, salad, segments, or a compote. Then came the fresh, natural yoghurt with toasted muesli and honey. After that delightful list, you might be thinking you're replete, alas I was wrong, now came the bakery section, freshly baked Croissants, Pan au Raisin or perhaps some Sourdough toast or maybe toasted Brown or white cut bread accompanied by homemade preserves, jams, marmalade, and honey.
Next comes the main course; suffice to say, you can have just about anything for breakfast, sausage, bacon, kippers, haggis, black pudding, potato scone and free-range eggs.
There is also gammon with tomato and Mull of Kintyre cheese, avocado on toast and of course poached Corrie Mains eggs (A famous local brand of free-range eggs) with chilli oil.
Finished with the choices? Well, not quite, 12 different teas and six coffees and Hot Chocolate, oh the choices! Suffice to say, breakfast was delightful, and it was served beautifully in the glorious surroundings of the dining room, which offered views again over the gardens to Ailsa Craig. It is so nice to know that the Hotel's gardens provide many of the ingredients for the exquisite food created in the hotel kitchens. The distinctive breakfast preserves are prepared at the Hotel from fruit grown in their 150-foot-long Glasshouse, and the herbs and vegetables that arrive on your dinner plate in the evening are homegrown in the walled garden and newly installed polytunnels. Making the most of local produce is a cause the Hotel are passionate about, reducing their carbon footprint whilst increasing the flavour.
The Azalea Glasshouse & Bothy Restaurant
If you fancy a less formal dining experience, then Glenapp has the answer.
Situated within the Castle's walled gardens sits a late Victorian Mackenzie and Moncur Victorian Glasshouse, built in the late 1800s and one of only a few remaining in Scotland, including a similar Glasshouse situated on the Queen's Balmoral Estate. With a botanical theme throughout, The Azalea Glasshouse & Bothy Restaurant is light, spacious and welcoming.
It is home to peach and fig trees, grapevines and propagation rooms for a variety of plants and flowers. With nature's truly awe-inspiring surroundings, this is, without doubt, a unique venue for those very special celebrations or for formal and informal dining. The Azalea Glasshouse & Bothy is the centrepiece of the Walled Garden where in addition to an array of magnificent flowers, much homegrown produce finds its way from the garden to the plate. The five distinct and individual compartments are perfect for intimate dining, and each have their own special highlights. Two of the compartments have their own private lounge areas.
The Vine Room is home to 100-year-old grapevines and The Atrium, at the very heart of The Glasshouse, is full of colour and nature with an abundance of plant life reflecting the changing seasons. The Bothy can also be yours exclusively, full of warmth with log burners and stunning views overlooking the Azalea Pond. Whatever the season, this unique, bright yet cosy restaurant offers a new experience on every visit, from summer walks around the Walled Gardens to stargazing in the winter months. The relaxed atmosphere lends itself perfectly to informal dining. Enjoy lunch, afternoon tea and dinner with views over the Walled Gardens or the Azalea Pond. Here you can enjoy West Coast Sea Bream, Salt Aged Duck Breast, Loch Duart Salmon and for dessert Iced Morello Cherry Parfait or Pink Lady Apple Tart Tatin, just to name a few.
Activities
Glenapp Castle is truly a place for relaxation, but if you seek more of a thrill, then Glenapp will not disappoint. As well as many walks to explore, their 110 acres of private estate and local woodland also boast herb, fruit, and flower gardens, a 150-foot Victorian glasshouse, and an all-weather tennis court and croquet lawn. The grounds are bounded on all sides by yet more woodland and open countryside to explore.
Guests staying at the Castle can enjoy a range of country sports from shooting, high pheasant and partridge shooting, deer stalking as well as salmon fishing on the River Stinchar, or trout fishing on a nearby loch. After nights of fine dining and surrounded by the wonders of Glenapp Castle and its estate, you might just want to explore the Hebridean islands where your adventure can continue. Your private chef will be on board, and the professional crew will navigate you towards remote islands, coastal castles, and distant inns. Enjoy lunch at one of the many famous seafood restaurants before arriving at an island or beach where the Glenapp island concierge team will have prepared your luxury glamping in the wild.
A well-deserved hot shower and a 'dram' before the chef prepares a memorable dinner under the stars. This will be an adventure that few have experienced before. Travelling between islands, you will spot bountiful sea and birdlife or go ashore to the site of an ancient monastery, archaeological site, hidden castle garden, or whisky distillery. This will be your memorable and unique Glenapp sea safari. For the first part of your adventure, you might decide to take 'Ripley', the sea eagle, with you. 'Ripley' has been trained aboard the boat to catch fish in the local waters. At 7 pounds and with a wingspan of 7 feet, she is a formidable hunter and can easily take fish up to 4 pounds in weight, one of the many raptors who visit Glenapp through our partnership with Elite Falconry. Cameras ready, the Hebridean islands await. If that appears too vigorous, then you could consider Sea fishing which can be practised in secluded bays all around the south Hebridean islands. You are likely to catch mackerel, pollock and coley, which can be caught in abundance. Seabass is also caught in these waters and, under the guiding hand of the skipper, accomplished fishermen and novices alike can enjoy the thrill of sea fishing.
Whilst the west coast of Scotland and particularly Ayrshire has five world-class open golf courses, there are several lesser-known golf courses, for example, on the island of Arran, which is a most spectacular island. Arran hosts Shiskine golf club, Brodick, and Whiting Bay golf club, together with Lochranza golf club. There is a small golf club on Gigha and a newly designed golf course on the Island of Jura. Most notably on the Mull of Kintyre, close to the Island of Arran, is the Machrihanish golf course. To quote old Tom Morris, in 1878, it was 'specifically designed by the Almighty for playing golf.' Imagine yourself on the best first tee to be found, with the drive across the beach to the fairway. So, as you can see, Glenapp will not disappoint. Stay in a Garden View Suites from £275 per night including breakfast in winter. Contact Glenapp Castle at:
Glenapp Castle Hotel, Ballantrae, Ayrshire, Scotland KA26 0NZ Tel +44 (0)1465 831212 www.glenappcastle.com
Sea Crossing from Ireland
Crossing over to Scotland in the winter months can be choppy to say the least, and that is why I generally choose to cross the short distance with Stena Line and travel on the biggest ferries ever to sail between Scotland and Northern Ireland.
The Stena Superfast VII and Stena Superfast VIII ships travel from Cairnryan to Belfast 6 times daily in a crossing time from only 2 hours 15 minutes, so you can travel when it suits you.
These ships are superb in rough weather, and they have an array of stabilising techniques, that they can deploy. Suffice to say these ferries give the smoothest crossing you will get across to Cairnryan Port.
Covid Concerns
The Digital COVID Certificate for Travel, also known as a 'vaccine passport' is being launched to allow passengers to undertake international travel in a safe manner. They are being issued by individual countries to their residents in order to provide an easy and convenient way for passengers to resume travel internationally.
England – NHS COVID Pass
Scotland – NHS COVID Pass
Wales – NHS COVID Pass
Northern Ireland – COVID-19 proof of vaccination
Republic of Ireland – EU Digital COVID Certificate
For more info visit https://www.stenaline.com/coronavirus-information/returning-to-international-travel-safely/
As we are in a period of Covid restrictions, I wondered how being socially distanced on board would work? I was deeply impressed to see distance markers laid out clearly, the lift was restricted to only two persons and car and vehicle drivers were politely instructed when to enter the car decks in a socially distanced manner.
All passengers were asked to wear face-masks when moving around the ship and there were sanitising stations all over the ship.
Stena Line made me feel very safe indeed.
To really add some excitement to my trip to Glenapp Castle, I decided to travel in the Stena Plus lounge. The lounge is a place of tranquillity, panoramic views and seriously comfortable seating. You pay a small upgrade fee to enter the lounge and it's advisable to book.
The Stena Plus lounge gives you a wonderful space at the front of the ship where you can enjoy your crossing, it is like travelling in first class.
When inside the lounge you can discover the luxury of an exclusive menu and complimentary beverages, nibbles, magazines, and waiter service. If, however you upgrade to Stena Lines Premium fare you will receive full access to the lounge as-well as greater flexibility, express boarding, and disembarkation~ on the Cairnryan – Belfast route. To help maintain the relaxed ambience in Stena Plus, Stena welcome guests 8 years and over. However, cabins are more suitable for families with younger children – click here for more details on cabins.
For those who just want to unwind and relax in an even more peaceful environment.
Try the 'Hygge' lounge Hygge is a Danish term that means enjoying life, living in the moment and creating joy and cosiness wherever you are, and this lounge allows you to do just that.
With large windows, soft tones and lighting, large (muted) TVs, this is the place to laze on one of our comfy reclined chairs, lift that book you've been waiting to read or simply just lay back while the sea miles pass you by.
For More information visit: https://www.stenaline.com
Tags: