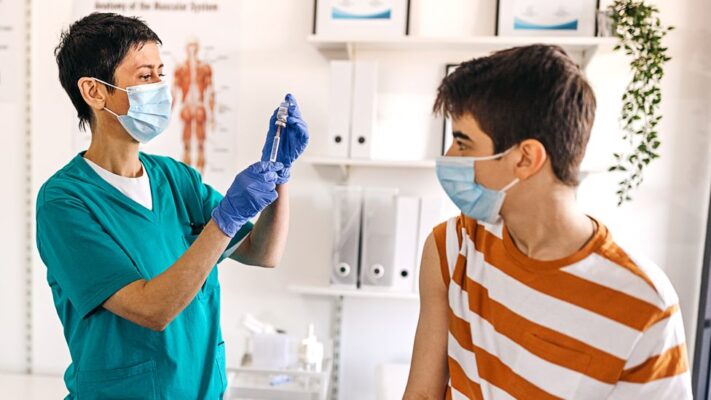 PEOPLE aged from 18 to 29 will be able to get their Covid booster vaccination from walk-in hubs at health trusts in the North of Ireland health from Monday.
Booster appointment bookings for this age group will be available from next Wednesday, December 22.
It is part of the Department of Health's plan to speed up vaccinations.
Meanwhile, Stormont ministers are due to get an update later on the Omicron variant spread in the North.
They will be briefed at a meeting of the Stormont Executive by the chief medical and scientific advisors.
On Wednesday, it was announced that the number of confirmed cases of the Omicron variant here had reached 151.
Today's meeting will also hear details of the plan to support the rapid roll-out of booster vaccinations.
Staffing cover for schools, which have been affected by a rise in Covid-19 cases, is also expected to be discussed.
Finance Minister Conor Murphy will also brief ministers on the latest government funding approved this week for the pandemic response.
However, Stormont's Department of Finance has said that most of the £75m allocated to the North was not new money.
On Wednesday, the UK reported a record number of daily Covid-19 cases since the beginning of the pandemic, with 78,610 new cases.
In the North of Ireland, four more coronavirus-related deaths were reported, with 2,156 new cases of Covid-19.
The announcement that 151 Omicron cases have been detected in the North was made by the Public Health Agency (PHA), which described the figure as a "significant increase".
The PHA attributed the increase both to "rising community spread" and a change in how cases were classified.
A new definition came into effect across the UK on Wednesday, which meant cases that were previously recorded as "highly probable" Omicron cases were now automatically recorded as confirmed cases.
The definition has been applied retrospectively to December 1.
Dr Brid Farrell, PHA deputy director of public health, said the identification of more Omicron cases was not unexpected.
"But it does act as a timely reminder that each of us needs to do what we can to slow its further spread and help protect ourselves and those around us," she said.
Chief medical officer Sir Michael McBride said he was "more concerned at this stage than he has been at any stage in the pandemic".
Sir Michael asked the public to get vaccinated and to get their booster if they were eligible.
There was also a warning that re-introducing restrictions might be necessary to cope with rising figures.
Sir Michael said that it was "reasonable given the current growth that significant measures might be required".
Tags: