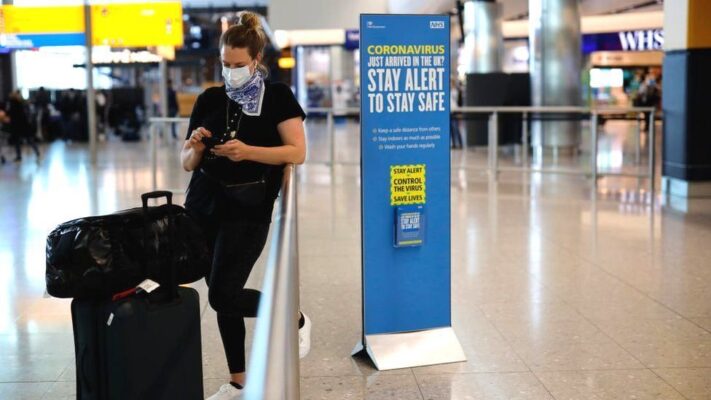 THE North of Ireland is to follow Westminster's lead in tightening travel restrictions amid growing concerns over the spread of the Omicron Covid variant.
Anyone arriving in the North of Ireland from abroad must take a pre-departure Covid test from 4 am on Tuesday, December 7.b
The test can be either a lateral flow or PCR.
The measures apply to anyone aged 12 and over, including people who have been double vaccinated.
A PCR test must also be taken by international travellers on or before the second day following their arrival.
The Department of Health said it is a temporary measure and will be reviewed prior to December 20.
Nigeria has been be added to the red list for international travel from 4 am on Monday.
All travellers returning to the North of Ireland from Nigeria will be required to enter hotel quarantine upon arrival and isolate for 10 days.
Travellers that have arrived in Northern Ireland from Nigeria in the past 10 days are also required to self-isolate, along with anyone who lives with them, taking a PCR test on day two and day eight.
The tests will be provided by NHS Test and Trace.
Countries also on the red list are Angola, Botswana, Eswatini, Lesotho, Malawi, Mozambique, Namiba, South Africa, Zambia and Zimbabwe.
The changes to international travel for the North of Ireland mirror a similar announcement made on Saturday for England.
Wales and Scotland have since done the same.
Travel industry bosses have said they had not been given sufficient warning of the changes.
Which? Travel Editor Rory Boland said the change to the North of Ireland's rules was "yet another example of the unpredictable nature of international travel during the pandemic".
"People will understand the need for the government to introduce public health measures but constantly changing rules at the last minute leaves passengers footing the bill," said Mr Boland.
"In some destinations, it will be difficult for people to secure tests at such short notice."
There has been 246 cases of Omicron detected in the UK.
No cases of Omicron have yet been identified in the North of Ireland but Health Minister Robin Swann has previously said it is expected that the new strain is already in the region.
As of Friday, one case of Omicron had been detected in the Republic.
The case was identified as part of a review of positive cases since 30 September.
Seven Covid-19-related deaths and 1,422 new cases were reported in the North of Ireland on Sunday.
The total number of deaths linked to Covid-19 here since the start of the pandemic is 2,901.
Tags: