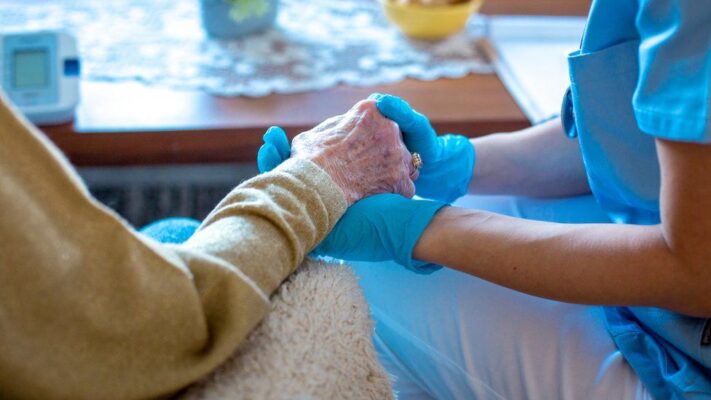 A £23m one-off support package to improve pay for domiciliary care staff in Northern Ireland will make a "sizeable difference" to the sector, one independent provider has said.
The funding is designed to allow employers TO offer improved pay rates and potentially attract more staff.
Derry-based Connected Health said the package would make pay rates more competitive.
It is one of Northern Ireland's largest care providers, employing 1,100 staff.
Director Ryan Williams told BBC Radio Foyle the support package would "put a substantial amount of money into carers' pockets directly" and make the rate of pay "much more competitive".
"It will also allow home care providers to invest in things like training, for example, where investment is required, governance and recruitment and all those things that make effective home care operations," Mr Williams added.
He said the announcement reflected the need to relieve pressure on the wider health and social care system.
Brendan Whittle from the Health and Social Care Board (HSCB) said it was going to be a "huge boost" to enable employers to provide improved pay for rates for the domiciliary care workforce.
He said domiciliary care providers have had to "hand back cases" or have been unable to provide the care they want over recent times.
"So this is a key part in resolving that now and over the winter period," he said.
He said the significant pressures at the moment were delayed hospital discharges.
"On Monday, 205 people in an emergency department were waiting for a bed in a hospital ward," he said.
"There were 222 people medically fit and ready for discharge but there were delays in arrangements for domiciliary care or moving into care homes."
He said individuals or their families were reluctant to avail of so-called step down beds in care homes when offered to them.
These are aimed at people who do not require an acute hospital bed, but may not yet be ready to return to their home or level of independence.
"We had 589 beds available in Northern Ireland in our care homes which could be used as step down beds," he said.
"If we were successful in bringing those people into these care homes it would be equivalent of opening up two hospitals across Northern Ireland."
DUP MLA Pam Cameron said the funding package was "positive news for essential workers who are underpaid and have rightly felt undervalued".
Ms Cameron, who is deputy chair of Stormont's health committee, said the health minister needed "a long-term plan to tackle this crisis".
"Sticking plasters will not be enough," she added.
"We need to make the sector more attractive; we need a stable, skilled workforce to help us care for our most vulnerable.
"With poor terms and conditions, however, it is little wonder organisations struggle to recruit and retain staff."
Concern has been growing about staff shortages in the home care sector.
Some independent providers have warned they may not be able to sustain services.
Health Minister Robin Swann said the package had been developed following detailed engagement with the sector.
"I am confident the funding will facilitate increased capacity across the social care sector for the remainder of 2021-22," he said.
"A longer-term solution is self-evidently needed, involving multi-year budgets and a durable financial settlement for all health and social care services."
The minister added that he will shortly be launching a consultation on the future of adult social care.
"As I have repeatedly stated, social care needs a long-term programme of both investment and reform," he said.
"While there are many competing demands on Northern Ireland's public finances, this has to be a priority in the coming years."
The funding package has been welcomed by the Independent Health and Care Providers (IHCP), a group representing the industry.
The chief executive of IHCP, Pauline Shepherd, said it was a step in the right direction.
Ms Shepherd said: "There needs to be a full economic review of the cost of care, but this will go some way in helping to be able to retain and recruit staff.
"Obviously there is going to be a time delay in that because when you advertise posts it's going to take some time to fill them.
"The purpose of the extra funding is in order to increase wages appropriately and recruit and reward people in both care homes and home care.
"We need to be able to compete and be able to offer an appropriate wage that recognises people working in care actually have a more demanding job."
Tags: