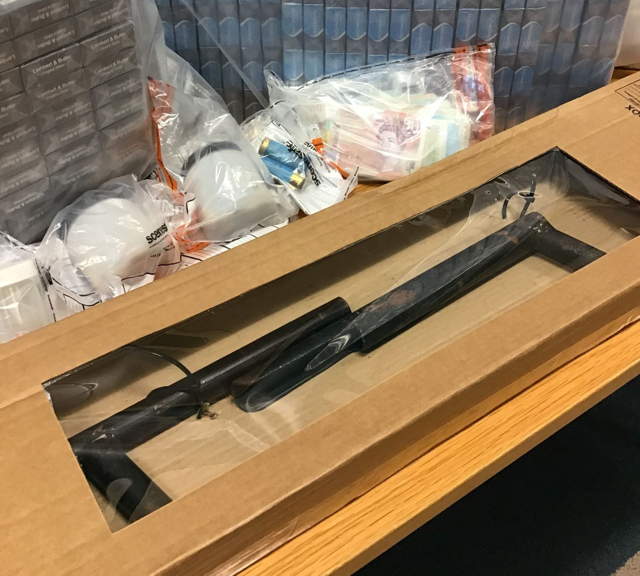 A 50-year-old man is due in court today charged with offences including possession of a firearm with intent.
Police said the charges form part of an investigation into violent criminal activity of the North Antrim UDA.
The man had been questioned by detectives from the Paramilitary Crime Task Force.
He is due to appear before Coleraine Magistrates' Court, sitting in Ballymena, on Thursday.
Earlier this week, police carried out a series of searches linked to the loyalist group and five people were arrested in the Ballymoney, Limavady and Coleraine areas.
On Wednesday, a woman appeared in court charged over the police investigation into the UDA activities in the Coleraine area,
Jennifer Lennox (52), Carnany estate, Ballymoney, appeared at Limavady Magistrates' Court, sitting in Ballymena, by videolink from police custody where she confirmed she understood the four charges against her.
A detective said Ms Lennox's DNA was found on a mask.
It was discovered alongside a shotgun following the shooting of Paul Fleming in November 2020.
In court on Wednesday, the police officer said Ms Lennox claimed she had been asked to keep balaclavas and ammunition at her home two years ago.
She said she was told to sew the mouths of the masks shut.
The detective said Ms Lennox claimed she stored the items but refused to name those who asked her to do so for fear of repercussion.
Police investigating activities linked to the North Antrim UDA carried out a series searches on Monday.
The court heard that 55 balaclavas, more than 100 rounds of ammunition and notes with ingredients for explosives were discovered at Ms Lennox's home.
A defence solicitor said his client was living "in fear" and it was clear what the repercussions might be if she had refused to store the items in her home.
He also questioned why it took police a year to search Ms Lennox's home.
He added that she had given "a full account for everything recovered".
District Judge Peter King said the allegations were "extremely serious" and that he was concerned by the "sheer amount of material" found.
Despite police objections, he granted bail on the stipulation that Ms Lennox is banned from entering Coleraine and Ballymoney and is subject to a curfew and electronic tagging.
The case was adjourned until December 13
Tags: