THE Northern Ireland Institute of Hospitality has said the industry feels it is "being used as a bit of a scapegoat to deflect from some of the bigger problems" around Covid-19.
On Wednesday, Stormont ministers voted in favour of Covid vaccine passports being introduced in December.
People will have to provide a passport or proof of a Covid test result to access nightclubs, pubs or restaurants.
Sinn Féin, SDLP, Alliance and UUP ministers backed the proposal.
The four DUP ministers voted against it.
On Thursday, Michael Cafolla, from the Northern Ireland Institute of Hospitality, said that the industry did not "feel that we are part of any sort of masterplan in terms of how we are going to get out of this".
"We haven't seen that clear evidence of leadership in the executive that gives us confidence in an industry that this is part of a bigger plan," he told BBC Radio Ulster's Good Morning Ulster programme.
"It feels like they have had a jigsaw in front of them for 18 months and they have put little pieces together, but we can't see the overall picture and that's very distressing for many of us within the industry.
"Particularly smaller employers who are coming out of having now no furlough support and that has put extra stress and pressure on the businesses."
NI health officials are drafting a second paper that will look at more measures that can be introduced to manage the spread of Covid-19.
Before ministers voted, it emerged that health officials warned that tougher restrictions may be required before Christmas even if proof of Covid status comes into force.
In its briefing paper for ministers, the department said that "further immediate measures are required to increase adherence to continued mitigations, including use of face coverings, work from home, outdoor meetings, ventilation and limiting contacts".
The paper also said that the number of positive cases had rise by 23% in Northern Ireland in the past week, hospital admissions were up 19% and hospital occupancy levels up 10%.
Mr Cafolla added that it was "concerning that ministers are only working on this second paper now".
"Why is there no masterplan for us to see, what are the targets that we are working to as an industry?"
Dr Alan Stout, British Medical Association NI's GP committee chair, said there needed to be a "strong consistent message" from political leaders in Northern Ireland.
"We have had some individuals who have stood up and been very decisive, have gone way outside their own comfort zone, have been saying things that as political leaders they would never have anticipated or imagined that they would have been saying and that's strong leadership, that's decisive and that is trying to get us all out of a difficult situation," he said.
"At the BMA we have been saying exactly the same thing and that's where we need to be – we don't need this mixed messaging and we don't need these difficulties."
Queen's University Belfast virologist Dr Connor Bamford said the passport scheme would be most effective if introduced in tandem with other measures.
He said it had the potential to both cut the risk of infection and encourage greater vaccine uptake.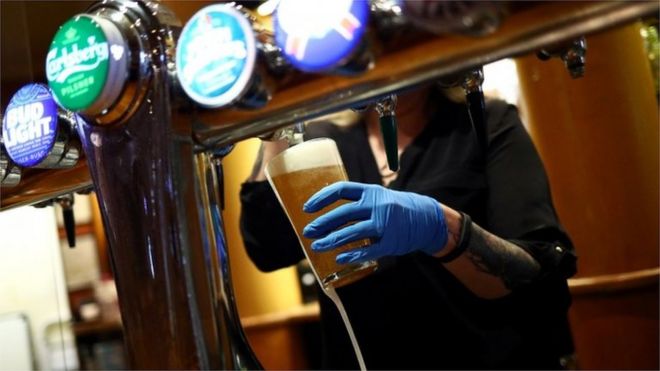 "But there's multiple things we have to do because vaccinations are just not enough," he told BBC Radio Foyle.
"The vaccine is not a silver bullet as such.
"We need a sustainable multi-layered approach taking sort of every aspect of our lives".
Speaking after the vote on Wednesday, Health Minister Robin Swann said that the a Covid passport was not the only option for people wanting to enter hospitality premises under the scheme – people could also use a negative lateral flow test taken in the previous 48 hours or proof of a positive PCR test taken in the previous 30 to 180 days.
The plan would mean the regulations would take effect from 29 November but will not be legally enforced until 13 December as there would be a 14-day grace period before fixed penalty notices could be issued.
It is understood the measure would apply for access to:
nightclubs
hospitality venues which serve food and drink
cinemas, theatres, concert halls and conference centres
indoor events with 500 or more attendees with some or all of the audience not normally seated
outdoor events with 4,000 or more attendees with some or all of the audience not normally seated
events where more than 10,000 people will be present regardless of whether they are seated.
DUP First Minister Paul Givan said that the regulations should be put to a vote in the Northern Ireland Assembly before it takes effect and other party members have been critical of the plan.
The chief executive of Hospitality Ulster, Colin Neill, also criticised the decision, saying that it – coupled with a lack of financial support for the sector – signalled that the industry was "of no value or concern".
Tags: