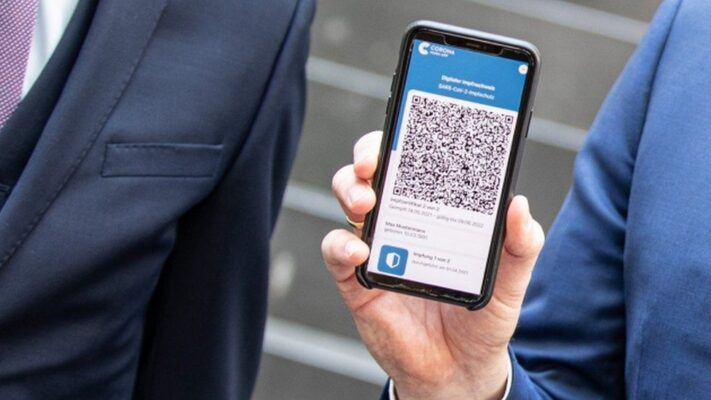 Stormont ministers have voted in favour of mandatory Covid vaccine passports to be introduced in NI from next month.
Under the measure, people would need a passport to access venues such as nightclubs, pubs and restaurants.
Sinn Féin, Alliance and the SDLP all backed the proposals from Health Minister Robin Swann.
It is understood that DUP ministers voted against the move, with the result finishing six to four.
The Department of Health is to bring forward another paper on Wednesday night or Thursday to explore the plans in more detail.
It is thought that the plan tabled by Mr Swann is for the rules on Covid passports to take effect from 29 November.
But there would be a 14-day grace period before fixed penalty notices could be issued.
The minister is believed to have proposed applying the measure across the hospitality sector and at entry to large events.
It is understood the measure would apply for access to:
nightclubs
hospitality venues which serve food and drink
cinemas, theatres, concert halls and conference centres
indoor events with 500 or more attendees with some or all of the audience not normally seated
outdoor events with 4,000 or more attendees with some or all of the audience not normally seated
events where more than 10,000 people will be present regardless of whether they are seated
Prior to Wednesday's meeting, it was clear that the DUP did not share the other parties' support for the health minister's proposals.
First Minister Paul Givan, DUP, met health officials on Tuesday evening ahead of the vote.
He had previously said his preference remained encouraging people to get vaccinated, as opposed to hospitality venues enforcing the rules.
Some business representatives are concerned but on Monday Mr Swann said the "time is now" to deploy a phased introduction of a Covid passport scheme.
High-level discussions about introducing mandatory Covid passports for domestic use in Northern Ireland have been taking place since late summer.
At that stage, few of the political parties supported the idea. In September, the SDLP's Infrastructure Minister Nichola Mallon proposed the move to other executive colleagues.
It was voted down at that stage, with ministers instead opting to put in advice around vaccine certification mitigations but this was not legally enforceable.
Ms Mallon and the Alliance Party's Justice Minister Naomi Long both said they wanted to see compulsory vaccine passports being introduced ahead of the nightclub sector reopening in Northern Ireland on 31 October, when social distancing rules were also scrapped in hospitality venues.
In mid-October, Stormont ministers published a contingency plan which referred to the "potential" deployment of Covid-19 status certification in "higher risk settings" but said it would require agreement from the executive.
On 1 November, the Department of Health released the COVIDCert Check NI app to allow businesses to scan vaccine certificates "voluntary use" of vaccine checks in hospitality and entertainment venues.
Tags: