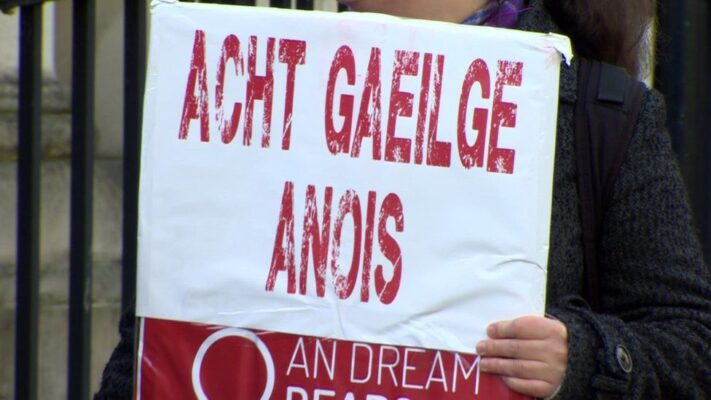 OVER 40 Irish language groups have called on the North's Secretary of State Brandon Lewis to "immediately move" Irish language laws at Westminster.
They have also written to him to request an "urgent meeting" over Irish language legislation.
Legislation on the Irish and Ulster-Scots languages was included in the New Decade, New Approach agreement in January 2020.
The bulk of the language measures agreed have not yet been implemented.
However some elements, like an Irish and Ulster-Scots language translation service for public bodies, have been set up.
In June the government agreed to progress the legislation through Westminster if it had not made progress at Stormont by autumn.
Representatives of the Irish language organisations behind the letter met at the Cultúrlann in Belfast on Tuesday.
In their letter to Mr Lewis, they said that the government's deadline "for progressing the New Decade, New Approach Irish language legislation has now passed".
"Yet another delay in progressing language rights is deeply concerning and unjustified," the letter said.
"You made a promise and we expect you to honour it.
"Anything less would be, without doubt, a dereliction of duty and an insult to the thousands of people who have, over recent decades campaigned and lobbied for equality and language rights."
The letter also said that language legislation was a "cornerstone component" of the New Decade, New Approach agreement.
"All deadlines have passed and still we wait," it said.
"Community confidence is now incredibly low.
"The days of Irish speakers being treated as second class citizens here are now over.
"Above all else we can on the British government to immediately move this legislation at Westminster without any further delay.
"Rights delayed are rights denied."
Dr Pádraig Ó Tiarnaigh from An Dream Dearg was one of those who signed the letter.
"In June of this year the secretary of state gave a very unambiguous commitment to introduce Irish language legislation by October if the Stormont executive failed to do so by September," he said.
"September has now passed, October has now passed and no legislation has been moved at Stormont or at Westminster.
"Although we would prefer this legislation to be enacted by our local representatives that now seems almost impossible.
"So we're calling on the secretary of state to move this legislation without any further delay.
"Any delay after this would be a dereliction of duty and the Irish language community's confidence in the secretary of state is at an all time low."
Tags: