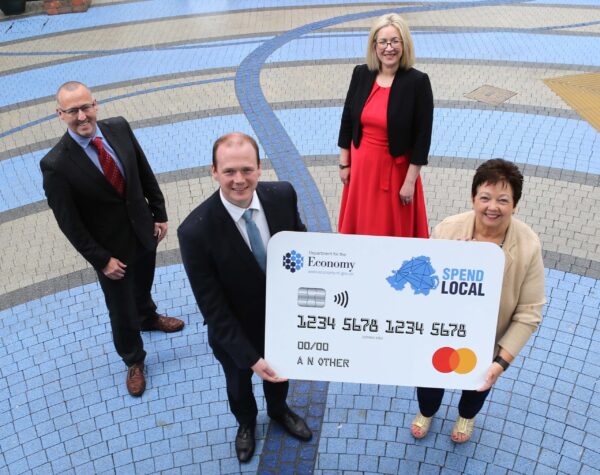 THE deadline to use the £100 Spend Local cards has been extended by two weeks to Tuesday, December 14, DUP Economy Minister Gordon Lyons has told the Assembly.
The £145m scheme was set up by the Executive to boost activity for bricks and mortar shops hit by the pandemic.
Applications for the scheme opened on 27 September and closed on 25 October.
The minister had said he hoped everyone would have received their cards by today so they have four weeks to spend them by the 30 November deadline.
Mr Lyons said: "To date, more than one million cards have been dispatched. Over 580,000 of these have been activated.
"Over £26.5m has now been injected into our local economy."
Some 1.43 million applications have been made for the card, which would suggest about 400,000 people are still waiting for their cards.
That is why the deadline to use the card is being extended.
The minister continued: "It remains the case that most people have four weeks to spend their card, but I recognise that this will not be the case for everyone."
"Therefore in order to offer these applicants a fair timescale to use their card, I can today announce that I am extending the deadline to use the Spend Local cards by two weeks – from November 30 to December 14," he added.
He said the extra two-week period will also allow card holders who have some balance left on their card, no matter how small, to spend it in local businesses.
The reason why the timing of the scheme is so important is to ensure it has the biggest economic impact.
There had been concerns that as the peak Christmas shopping window approaches, people would choose to use their card at a time when they would normally be out spending anyway.
For some people, it could displace that spending, rather than acting as an additional injection of cash into the local economy.
The deadline to apply for a card passed last week, but did not apply to those who have been asked to upload further information to verify their identity.
On Monday it emerged that an investigation had been launched after a "small number" of high street voucher cards were declined when people tried to pay with them.
A number of people in Derry reported that over the weekend their cards were declined when they went to use them in shops in the city.
Stormont's Department for the Economy said it was trying to find out what had gone wrong.
The department said there was no indication the transactions were declined by the card provider.
A department spokesperson said if there is a fault with the card people should contact the card provider.
Customer Service details are provided on the card.
Tags: