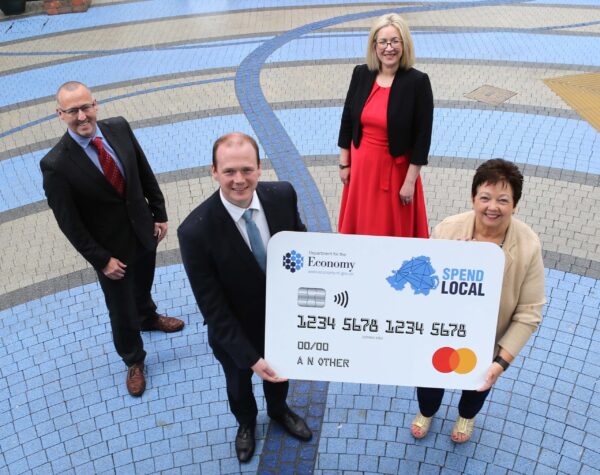 AN investigation has been launched after a "small number" of high street voucher cards were declined when people tried to pay with them.
A number of people in Derry reported over the weekend that their cards had been declined at shops.
Stormont's Department for the Economy said it was trying to find out what had gone wrong.
The department said there was no indication the transactions were declined by the card provider.
The £100 vouchers are designed to boost activity in businesses hit by the coronavirus pandemic.
As of Monday almost 950,000 cards had been sent to successful applicants, with more than £24.6m spent so far.
Pauline Magee and her husband tried to use their spend local cards in two different shops on Saturday and both were declined by the card readers.
"When I put the card in the machine it said the pin was okay – but the card was declined and the transaction was cancelled," she said.
"We tried it with two different cards, myself and my husband's, in two different shops.
"It was a bit embarrassing and the manager had to be called and the queue was held up behind us.
"It's frustrating when you've planned to buy something – my husband had planned to buy shoes for a wedding we're going to."
After trying to use her card again on Sunday she said the transaction successfully went through.
The deadline to apply for a card passed last week, but did not apply to those who have been asked to upload further information to verify their identity.
The deadline for spending the vouchers is the end of November.
There were also reports of women being asked for more information because the names on their birth certificates differed from their married names.
The department said no one had been rejected for a Spend Local card.
"There are cases where the details provided in the application form do not match those details held on the databases used to verify applications, and we have asked for further information to verify the application," a spokesperson said.
They added: "We have provided a list of documents in our Frequently Asked Questions, which includes marriage or divorce certificates and a letter from a care home, but this is not exhaustive and if applicants have documents that show they are over 18 and live in Northern Ireland they can provide that supporting evidence using the link they have been sent.
"The department is applying maximum flexibility on the information that can be provided to confirm an applicant is eligible for a Spend Local card.
"Where there is a genuine attempt to provide information, there is a clear link between the application and the documents provided and a reasonable level of confidence that the person is eligible they should be verified."
A department spokesperson said if there is a fault with the card people should contact the card provider.
Customer Service details are provided on the card.
Tags: