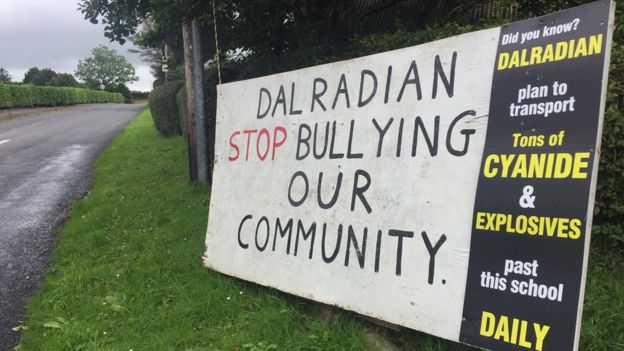 PEOPLE Before Profit Councillorr Shaun Harkin has said that the BBC Spotlight programme has exposed the corruption at the heart of Dalradian's gold toxic mining plans and Stormont.
Said Cllr Harkin: "BBC Spotlight has helped to expose the corruption at the core of Dalradian Gold's drive to plunder the Sperrins for profit and Stormont.
"Spotlight put a spotlight on how the company has been caught lying and raised serious questions about the role of the NI Environment Agency.
"There's no doubt Dalradian has poisoned community relations.
"Dalradian Gold planned to use poisonous cyanide to mine but has been blocked because of the resilience of local environmental campaigners – to whom we owe a tremendous debt.
"The Stormont Executive parties want us to believe they're taking dramatic climate action but they have constantly greenlighted Dalradian's toxic mining plans for over a decade.
"This is capitalism at its polluting worst.
"It's about putting huge profits in the bank accounts of bosses and elites no matter the consequences local communities and nature.
"The UN COP26 conference in Glasgow is being held amid the declaration of a climate code red for humanity.
"We can't trust any Stormont Minister or any public inquiry to do the right thing. People power is going to be key in determining the outcome of this struggle.
"We urge people to join the global day of action on November 6 in Derry to send the message the Sperrins or anywhere else is not for sale."
Tags: