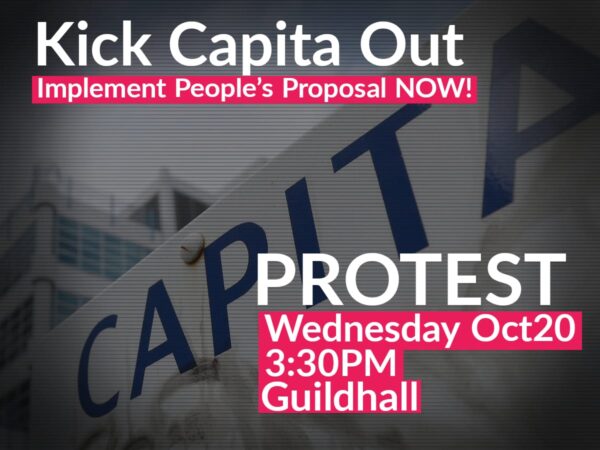 A PUBLIC protest will be held at Derry's Guildhall this week to demand action from Sinn Fein Communities Minister Deirdre Hargey to take against Capita over its shambolic handling the Personal Independent Payments (PIPs).
People Before Profit Cllr Shaun Harkin said: "It has been confirmed representatives from the Department for Communities and Capita corporation will attend a Special Council meeting this Wednesday at 4pm.
"We will be joining the protest at the Guildhall in advance of meeting to demand action by the Communities Minister.
"The Public Service Ombudsman report into Capita corporation's administration of the Personal Independence Payment (PIP) benefit confirmed there was systematic mistreatment of vulnerable people.
"Instead of axing Capita, the Sinn Féin DfC Minister rewarded the corporation with a contract extension worth tens of millions through 2023.
"The Minister has also refused to implement the 'People's Proposal' incorporating a robust human rights checklist protecting access to crucial benefits for vulnerable people. Every additional day the Minister and the Stormont Executive sit on their hands doing nothing people suffer.
"The political establishment has turned its back on workers and the vulnerable. They are far more focused on looting Stormont for elites and the politically connected. It's time for a real alternative."
Full motion supported by DCSDC July 2021:
Motion: End Capita's PIP Contract
Council notes with alarm the Public Services Ombudsman investigation into Personal Independence Payment (PIP) that found 'systematic maladministration' and 'failures' by the DfC and Capita management in their treatment of vulnerable people attempting to access disability benefits.
Council notes the participation of Capita in PIP is part of vicious Tory welfare reform policies agreed by the Stormont Executive – but not required under that legislation. Capita is profiting by doing the bidding of Westminster and the Stormont Executive to mistreat vulnerable people in the assessment process and cruelly deny them access to benefits.
Council believes the mistreatment of vulnerable people by Capita is unacceptable and that the company cannot be rewarded with further contracts worth millions in profits.
Council will write to the DfC Minister requesting Capita's contract is ended, not extended. Council calls for work to begin immediately to develop an 'in-house' assessment process within the public sector, using medical information, as it was in the past and as it is planned in Scotland to begin in Spring 2022.
Council will invite representatives from Capita and the DfC Minister for presentations on the Ombudsman report.
Furthermore, Council notes with serious concern the Justice Minister's decision to award the new hard fought for victims' pension contract to Capita. Council calls for the Stormont Executive to begin an immediate review of all contracts awarded to Capita by Ministers.
Tags: