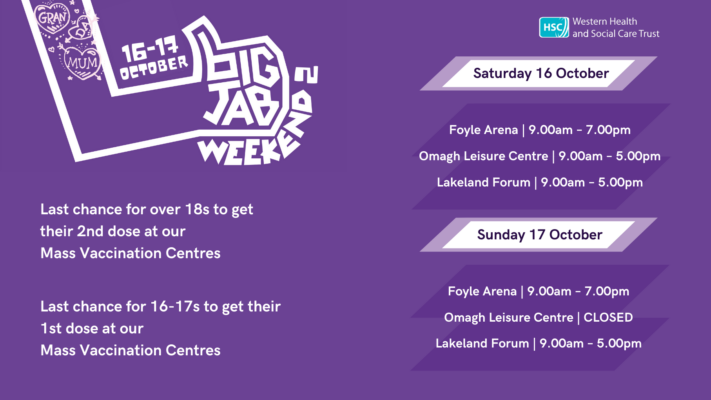 THE Western Trust will open the doors its Covid-19 Mass Vaccination Centre at the Foyle Arena in Derry this weekend to deliver second dose vaccines.
Foyle Arena will be open between 9 am and 7 pm on Saturday, October 16 and Sunday, October 17.
In a statement on its Facebook page, the Trust says: "Our three COVID-19 Mass Vaccination Centres will open their doors for one weekend only this Saturday and Sunday to deliver thousands of second dose vaccines.
"Over 2,500 people received their first dose vaccination at our Big Jab Weekend back in August and now, eight weeks on from that first jab, those people will return for their second dose at the Big Jab Weekend 2.
"We are encouraging anyone who for whatever reason has not yet received a second dose, or who may have missed their scheduled appointment, to also come forward this weekend to receive their second jab.
"The only group who will be able to avail of a first dose jab this weekend are those aged 16-17, as the drive continues to encourage this particular age bracket to come forward for vaccination.
"For full details on the Mass Vaccination Programme please visit our website: bit.ly/WTCOVID19Vaccination
Tags: