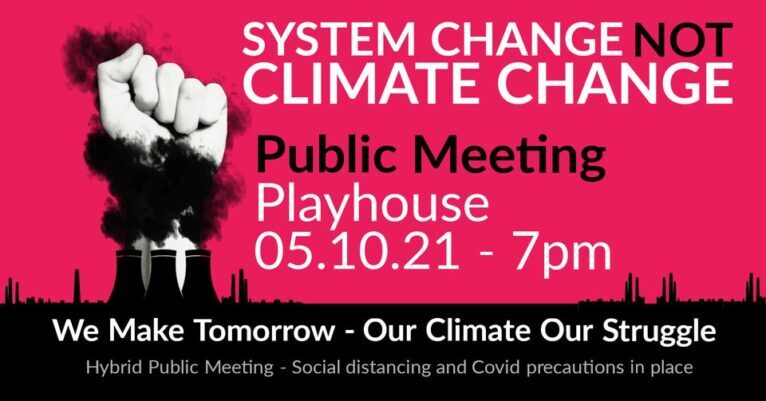 PEOPLE Before Profit are hosting a hybrid pubic meeting tonight, Tuesday, October 5, at 7 pm to discuss System Change Not Climate Change – Global Day of Action November 6.
It is the same day that hundreds of world leaders gather in Glasgow for the United Nations COP 26 Climate Conference.
Tonight's meeting at Derry's Playhouse theatre is chaired by PBP Derry Councillor Shaun Harkin.
Those attending the hybrid meeting included:
Emma Farren, Ulster University student and climate strike organiser
Maeve O'Neill, People Before Profit Cllr and climate justice campaigner
Niall McCarroll, Derry Trades Union Council Chair
Shauna Corr, environmental journalist.
You can watch this evening's meeting here: https://fb.me/e/1tVW8EAcF
Speaking ahead of the meeting, Derry PBP Councillor Maeve O'Neill said: "November 6 is the agreed date for a massive global day of action geared towards letting governments and decision-makers attending COP26 know their response to the climate emergency is completely inadequate.
"People in Derry and across Ireland will be putting feet on the street to make sure government parties here get the message that promises no longer cut it.
"Climate change is no longer a debate. We are amidst a climate emergency. Governments across the world, including Westminster, the Stormont Executive and the Dáil, have refused to take radical action necessary to respond to the crisis. We can no longer play by the political establishment's rules.
"Nothing has been done to address Mobuoy dump. Corporate dredging of Lough Neagh continues. The Stormont Executive is bending over backwards to let Dalradian plunder the Sperrins.
"The Derry rail upgrade has been abandoned. Not a single new rail track is being put in the ground.
"Instead of action we get reviews, studies and promises. 'Business as usual' continues while climate activists and environmental protectors are criminalised."
Encouraging people to join the meeting in-person or online tonight, People Before Profit, Cllr Shaun Harkin said:
"New climate legislation will be meaningless if corporations are allowed to continue to pollute and plunder while Stormont and the Dáil slash investment in public transportation.
"Corporations are addicted to profit and governments, including our own, are addicted to capitalism.
"We need mass people power action to send the message to world leaders and the political establishment here that urgent radical action must happen now.
"We need to build towards a break with ruthless and destructive capitalism that allows a tiny minority to enrich themselves at the expense of people and the planet."
Tags: