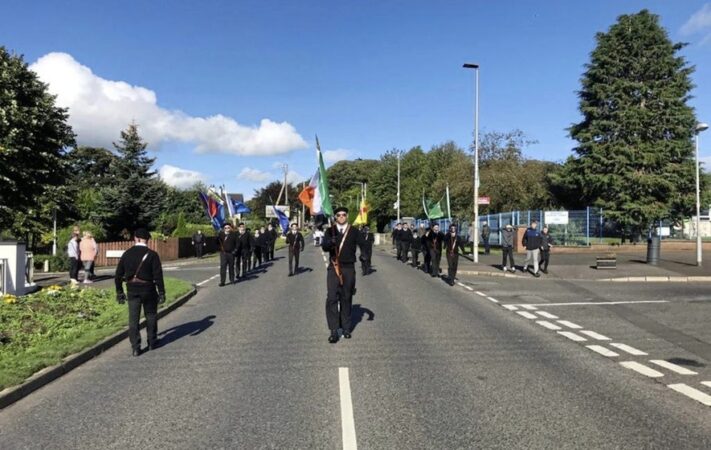 THE PSNI had a large presence around a Co Derry village ahead of a national hunger commemoration organised by hardline political party Saoradh at the weekend.
Hundreds of people and two bands took part in the parade through Bellaghy on Saturday.
During the march wreaths were laid at the grave of hunger strikers Francis Hughes and Thomas McElwee, who are both buried in the village.
Ten republicans died during the 1981 hunger strike, which ended 40 years ago yesterday.
Tricolours were flown from lampposts as a 22-person colour party, which included men and woman wearing sun glasses, berets and gloves, led the precession through the village.
A PSNI helicopter hovered over the village before the parade set off and was later replaced by a spotter plane, which also circled the area.
Checkpoints were set up on routes into the village while police vehicles were positioned in outlying areas.
Land Rovers fitted with CCTV cameras also monitored the parade at different points along the route.
Saoradh has the support of New IRA prisoners and a statement was read out on their behalf.
Derry New IRA boss Thomas Ashe Mellon was seen leading the parade, according to newspaper reports.
The New IRA in Derry claimed responsibility for the murder of journalist Lyra McKee who was shot dead in Creggan's Fanad Drive on Thursday, April 18, 2019 while observing rioting orchestrated by dissident republicans.
Since her brutal murder, 17 hardline republicans from Derry have been charged with offences connected to the New IRA, including murder, bomb making, directing terrorism and rioting.
Those attending were also addressed by veteran Belfast republican Kevin Hannaway, while independent Flemish nationalist Pieter Van Damme also spoke along with Saoradh chairman Brian Kenna.
Tyrone republican Tony Slevin delivered the main oration.
"While revisionists perpetrate myths regarding the motivations of the hunger strikers let us be very clear here today," he said.
"They did not died to advance a purely electoral strategy for republicanism.
"They embraced elections as a means to win the prison struggle.
"They did not die to create the space for a totally unarmed strategy."
Tags: