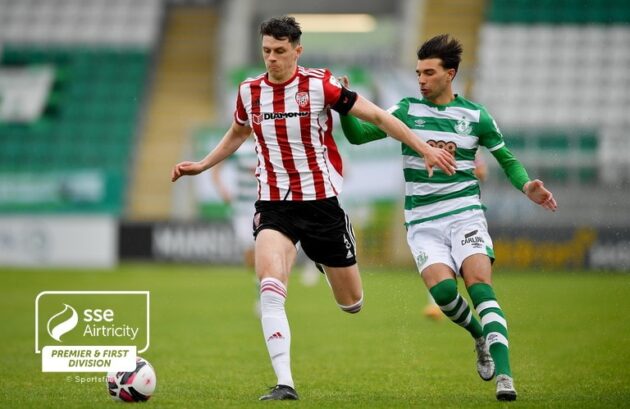 DERRY City FC fans are outraged after Shamrock Rovers failed to provide any tickets for Candystripe supporters for this week's league clash.
Manager Ruaidhri Higgins and his team travel to the Tallaght Stadium this Friday night, October 1, for a mouthwatering encounter against Rovers in SSE Airtricity League (kick off 7.45 pm).
City sit in fourth place while Rovers currently top of the league.
In a Facebook post, Derry City FC said: "Next up, City visit Shamrock Rovers on Friday night.
"Unfortunately, there is no allocation of away tickets for this game.
Shamrock Rovers said on its Facebook page: "We look forward to welcoming 4,000 Hoops to Tallaght Stadium on the night – our largest crowd in 19 months."
The news has been met with fury by Derry City supporters.
One posted on DCFC's Facebook page: "It's not unfortunate it's a disgrace.
"I hope next season we return the favour both times at Brandywell."
Another posted: "Tallaght holds an 8k capacity…Any wonder everybody loves rovers 🤥🤥
"Would like to think Derry will refuse them there away tickets in the future."
A third fan posted: "Disgraceful! Where's the FAI on this?!"
Derry City fans also took to Shamrock Rovers Facebook page to vent their anger.
One posted: "Shame your club couldn't show the respect that other clubs do by letting away fans watch the match..
"Hope Derry and other teams do the same back to u as well."
Another said: "Disgrace that there was no allocation for away fans.
One other fan said: "Shams still have 4 away matches to go.
"Imagine those clubs refused them an allocation.
"They could end up winning the league with no fans to celebrate with that night."
The decision not to allow some Derry City fans into the Dublin ground has also been called out by Rovers' fans.
One said: "As a Rover's life long fan this is wrong."
Tags: