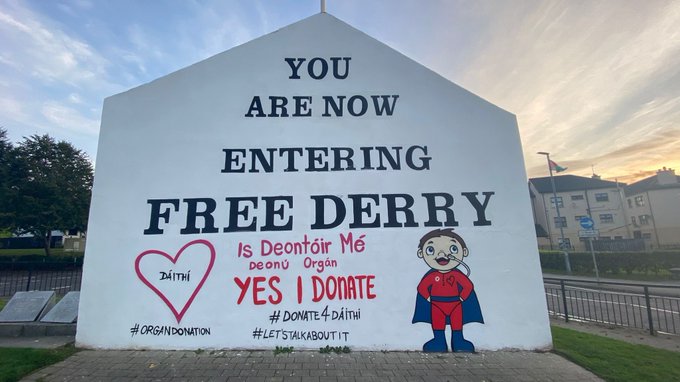 A MAJOR change to organ donation rules in the North of Ireland has passed its second reading at Stormont.
Assembly members approved the bill by 69 votes to six, and it will now go before the health committee.
If passed, the legislation would mean people automatically become organ donors unless they specifically opt out.
The North is currently the only part of the UK where an opt-out system for organ donation is not in place.
"One of the things this bill has allowed us to do is to start to have that conversation as to what organ donation means," said Health Minister Robin Swann during the debate.
Until June, the DUP had blocked attempts to pass a bill.
Following talks between First Minister Paul Givan, Robin Swann, who proposed the legislation, and campaigners, Mr Givan announced he had given approval for the legislation to proceed to the assembly.
The lack of opposition would allow for such a bill to become law before the assembly is dissolved ahead of the election due in May.
However, campaigners have raised concerns that the bill might never become law due to the DUP's threat to collapse Stormont over the Northern Ireland Protocol.
Earlier this month, DUP leader Sir Jeffrey Donaldson said his party may quit Stormont "within weeks" if its demands over the protocol are not met,
There are currently about 115 people waiting for an organ transplant in Northern Ireland.
Health Minister Robin Swann said the bill had been "long-awaited by all who are involved in the organ donation process."
He told the assembly the move would increase the number of donors "and ultimately the number of life-saving organs available for transplantation".
The minister outlined how the bill had taken on board lessons from legislation in other parts of the UK.
"This bill will mean that adults in Northern Ireland will be considered potential donors unless they choose to opt out or are excluded," he added.
Máirtín MacGabhann, whose four-year-old son Dáithí has been waiting for a new heart for three years said the proposals would be "a massive step" forward for Dáithí and others on the waiting list.
"A transplant is used when all other options have been exhausted, it's the last hope for them," he said.
"There is something that our politicians can achieve to increase your loved ones' chances of receiving the vital organ."
He encouraged those in power to keep the political institutions "up and running, so important issues like soft opt out organ donation have a chance of going through".
"I'm just pleading with those politicians to please give these important pieces of legislation a fighting chance because they can change our society so much," he said.
He said if Stormont were to collapse over the issue he would be "absolutely heartbroken".
"We have come so far and gathered so much support politically and it would be an absolute travesty if the likes of soft opt-out organ donation was not to come into law because of the collapse of Stormont," Mr MacGabhann said.
Tags: