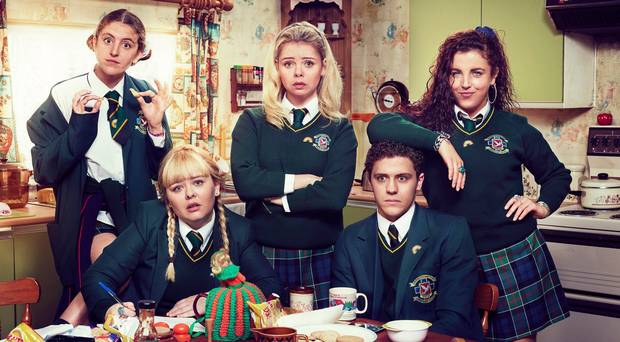 DERRY Girls writer Lisa McGee has laughed off suggestions her hit comedy is among the "distinctly British" programmes public broadcasters should be making.
Just before being axed as Media Minister in the Cabinet reshuffle, John Whittingdale was mocked on social media for his comments at the Royal Television Society on Wednesday.
He proposed that public service broadcasters did more, and said he wanted a legal requirement for them to produce clearly British programming like Only Fools And Horses and Derry Girls.
"So in our upcoming White Paper I intend to include proposals that will expand the remit of public service broadcasters, so that it includes a requirement for them to produce distinctively British content," he said.
While admitting that Britishness was a "difficult concept to measure", he said the Government would speak to the regulator Ofcom about how this would work.
"I'm talking about continuing to make the programmes that are ours and only ours, that could only have been made in the United Kingdom," he added.
"Take Derry Girls, a show that addresses the Troubles and the rise and fall of Take That with equal passion.
"It could only have been made here."
Responding on Twitter, Ms McGee said: "The most 'Ach I can't be dealing with this today' headline I've seen about the show. And there's been a few."
Derry Girls cast member Siobhan McSweeney, who plays Sister Michael, added: "Derry Girls is made by a British company and aired by a British channel. But it's not a 'distinctively British' programme. But what would I know?"
Derry Girls fans soon took to Twitter to question if Mr Whittingdale had even watched the Channel 4 comedy.
One said: "I wonder did the British government ministers behind this plan ever consider why 'Derry Girls' isn't called 'Londonderry Girls', or, better yet, did they ever consider actually watching the show to get an idea of what the characters are about?"
Another commented: "I, too, watched the scenes about the Famine, the ridiculing of the English, the Irish Catholic traditions in Derry Girls and thought: 'Wow, that's so British!'"
A journalist for a UK newspaper added: "In writing this about Derry Girls being described as 'distinctively British', I discovered Father Ted was voted the second best British sitcom of all time."
Speaking to BBC Radio UIster, local writer Claire Allan described Mr Whittingdale's comments as cringeworthy and tone deaf.
"They're not great, are they? They're a bit cringe when you listen to them for so many reasons — you could unpack it for a long time," she said.
"Obviously, you have to acknowledge it was broadcast by Channel 4, a British broadcaster, and it's made by a British production company.
"But it is a very Irish programme. The main characters identify as Irish, the writer identifies as Irish, and it's coming from that perspective.
"I suppose when there is the background of the Troubles it's looking at it not with positivity.
"I suppose there's something very tone deaf about comparing how it looks at the Troubles and people's love for Take That on the same level and praising that as a great thing… it's bizarre.
"I think maybe nobody has watched it and they don't know what they're talking about.
"Maybe they think it's about cheese farmers or something, I don't know."
"I suppose they had to mention something from this part of the world and there are a lot of good programmes being made here.
"But of all the great programmes that are being made in Northern Ireland, that one seemed a bizarre one to pinpoint for distinctly British qualities."
Tags: