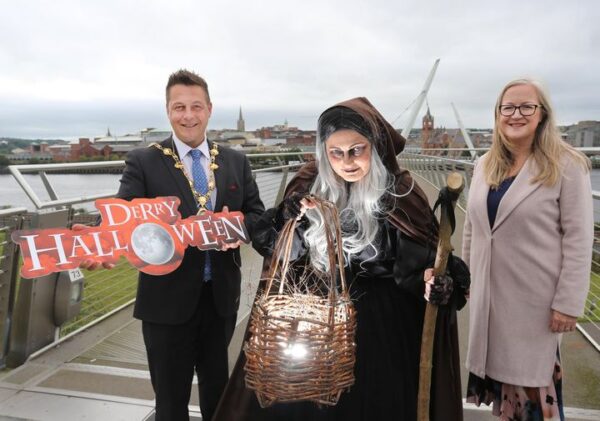 Preparations are underway for what is expected to be a spectacular Halloween 2021 programme, as Derry prepares to welcome visitors once again to the world's number one Halloween destination.
Mayor of Derry City and Strabane District Council, Alderman Graham Warke, joined with sponsors to officially launch the programme today, unveiling some of the highlights of the exciting outdoor festivities set to take place from October 29-31.
This year's theme is aptly titled 'Awakening the Walled City' and the eagerly awaited festival will return once more to the City's streets, with a carefully coordinated blend of al fresco events taking place over an extended area.
The Festival and Events team have worked closely with Tourism Northern Ireland (TNI), Tourism Ireland, Northern Ireland Tourism Alliance and other industry bodies in developing a safe plan for this year's event in an ever changing environment.
The celebrations will feature illuminations, animation and installations across key locations stretching around and beyond the City's historic Walls, taking in the wider City and District guaranteed to enthral and mesmerise spectators along the trail.
The various locations offer the opportunity to experience the magic at your leisure, taking in the sights and sounds over a number of visits if preferred, ensuring everyone can enjoy Halloween in a safely distanced manner.
Visitors will have an opportunity to travel through a series of Worlds each linked to the North West's Samhain roots.
Ghostly characters from the underworld returning for Halloween 2021 include Irish witch, the Cailleach, the shape-shifting goddess Morrígan, the fearsome Red Branch Knight, and Walter the Skeleton from Derry's own coat of arms.
There is much excitement that the traditional fireworks display will light up the skies once again, though at a later time with further details to be confirmed.
Mayor of Derry City and Strabane District, Alderman Graham Warke, said that this year would be the 35th anniversary of the world class event, which attracts visitors from across the globe.
"There was huge disappointment that the event could not go ahead last year and the Festival and Events Team have been working extremely hard to build a celebration that recreates the magic of our annual Carnival, but in a safe and accessible format.
"This has always been a celebration that generates an immense sense of community spirit and enormous pride in the people of this City and District. I am confident that we can recapture that magic this year, in a safe and controlled environment where people can celebrate confidently outdoors with family and friends."
Derry Halloween is organised by Derry City and Strabane District Council with support from Tourism Northern Ireland, Donegal County Council and the North West Development Fund.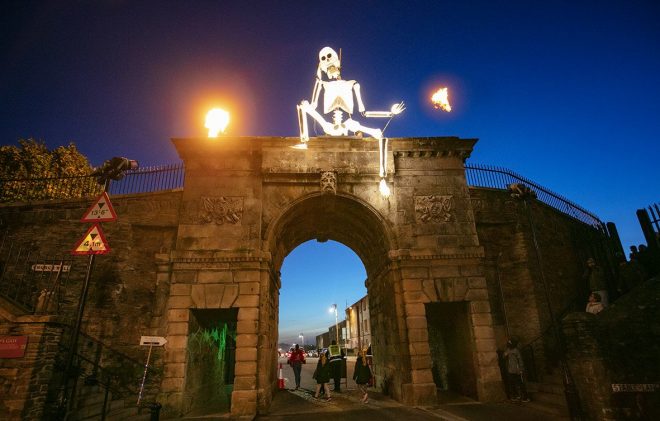 Looking ahead to the event Aine Kearney, Tourism NI's Director of Business Support and Events, said they were delighted with this year's plans:
"We are very excited to hear what has been planned for this year's Derry Halloween.
"The ability to engage both the imagination and participation of the entire local community in its Halloween Celebrations, has assisted in making this a distinctive and globally appealing festival.
"Events such as Derry Halloween generate significant economic benefit and help boost the profile of tourism in Northern Ireland.
"This year's unique festival programme will showcase the vibrancy of this destination and local artistic talent, providing visitors with a range of unique and compelling experiences to enjoy when the Walls Awaken on the 29th October."
Further information on the Halloween festival programme for Derry City and Strabane District Council can be found at: derryhalloween.com
Tags: