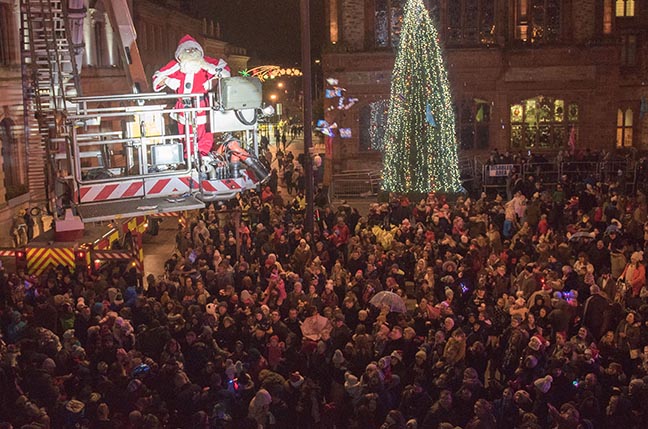 MEMBERS of Council's Business and Culture committee were presented with an update on plans for the Christmas programme within the district at their September meeting this week.
Presenting the report, Council's Head of Culture, Aeidin McCarter, explained that the Christmas programme would begin on November 20th and continue into December, focusing on key weekends throughout this period.
Members heard that the programming will focus on bringing communities together, creating the space for shared inclusive celebration around the Christmas period and that all programming would be carried out in line with Covid-19 restrictions and guidelines.
It was explained that Christmas lights switch ons will take place in Strabane on Saturday, November 20 and in Derry on Sunday, November, 21.
Members were told that following last year's virtual switch ons, this year it was proposed that the event return to an outdoor event format using different streets in the city and town centres to allow for social distancing.
Aeidin McCarter said: "We are planning a 'Santa's Switch On Procession' which will consist of festive characters, NI Fire and Rescue Service, Panto Characters and beautiful bespoke Christmas themed mobile installations.
"Members of the public attending the Switch On event will be able to view Santa switching on the Christmas lights from a series of city and town centre streets which will allow for the maximum number of people to safely line the routes."
She added that Business and Culture officers are working closely with the Council's Environment Directorate to ensure that the various Christmas lighting schemes are complemented by a mix of events and activities to ensure an enriched overall visitor and shopper experience.
Members were also informed that work was ongoing around the Christmas Markets and a further update would be provided on the proposed details and dates at next month's committee meeting.
Due to the continued indoor restrictions with regards to Covid-19, members were told that the possibility of hosting the Guildhall Craft Fair is unlikely, but that the festive marketing campaign would centre around 'shop & gift local', 'support local' and 'your small spend makes a giant difference' messaging themes to support local businesses and traders.
As part of the update, members also heard that the Council's Events team are continuing to work closely with the Mayor's Office on a series of activities that will enable the Mayor to bring Festive fun to communities in the Derry City and Strabane District.
Members voted to approve the overall budget of £80,000, with a further update to come before committee in October.
Business and Culture chair, Cllr Conor Heaney, welcomed the report and thanked Council officers for their work on the programme to date, adding that the festive period is always a positive and exciting time for local people and businesses and that the proposed programme will add to that excitement.
Tags: