Anyone aged 18 and over in the North of Ireland will be eligible for the £100 pre-paid card by applying on the NI Direct website.
However, the Foyle MLA said some older and vulnerable people without internet access "could end up missing out".
The Department for the Economy said a phone line would be available for those unable to apply online.
People will also be able to register to complete an application on behalf of a "limited number" of other people.
The scheme was due to open yesterday, Sunday, September 12.
But then it was rumoured it would open on Tuesday, September 14.
But the Department for Economy has now said that the scheme will not open this week after all.
In a letter from Mr Durkan to Communities Minister Deirdre Hargey, asking if her department could help with the roll-out of the voucher.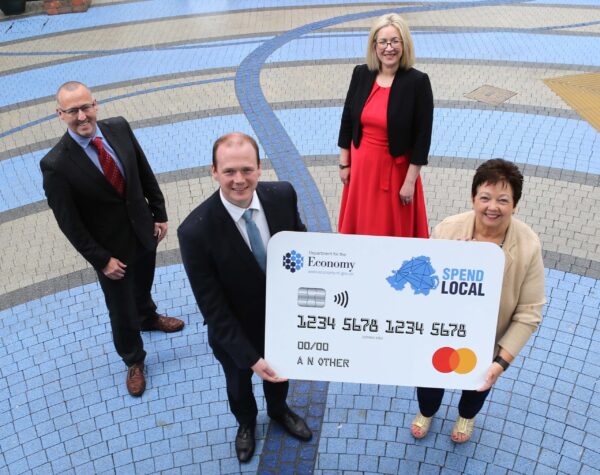 He said as some older people may not use computers, or have relatives and friends able to help them, there was a risk of "potential exclusion of vast swathes of that cohort" from the scheme.
The assembly member has asked the minister to automatically issue the vouchers to pensioners, whose details are already held by the Department for Communities.
Not only will it ensure everyone entitled gets access but it would also reduce a lot of pressure on the system when it does open," Mr Durkan said.
"There could be a detrimental economic impact if fewer people avail of this voucher."
The Department for the Economy is overseeing the roll-out of the scheme.
It has also said cards will need to be spent by Tuesday, November 30, to avoid displacing spending during the peak of the Christmas shopping period.
On Sunday, Sinn Féin's chair of the economy committee, East Derry MLA Caoimhe Archibald, said Economy Minister Gordon Lyons needed to urgently clarify when the scheme would open.
A Department for Economy spokesperson said the minister would make an announcement in the very near future.
Tags:
THE SDLP's Mark H Durkan has expressed concern that some people could struggle to access the High Street voucher scheme.