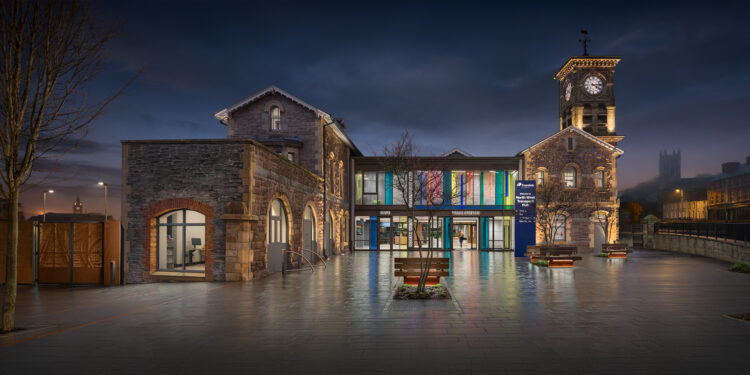 MAYOR of Derry City and Strabane District Council, Alderman Graham Warke, has sent his congratulations and best wishes to Translink following their nomination for the Institution of Civil Engineers (ICE) People's Choice Award for the North West Transport Hub project.
The prestigious international award recognises the top civil engineering project of the year, as voted for by the public, and aims to reflect what the people who benefit from civil engineering in their everyday lives really think.
The Hub was completed in 2020 at a cost of £27 million and includes park and ride spaces and a walkway to the city centre via Derry's iconic Peace Bridge.
Awarded by ICE, the global professional body for civil engineering, the prize is considered an important recognition of major infrastructure projects and the enhancements they bring.
Mayor Warke sent his best wishes to Translink and urged the public to get behind their bid to claim the prize by taking part in the online poll.
"The North West Transport Hub has been a significant addition to city life since it opened last year, taking a key piece of the North West's architectural heritage and restoring it to a modern transport facility and an appropriate gateway to the North West region," he said.
"Their nomination for this prestigious title is just reward for the delivery of this project and the positive impact it has had on local people's lives.
"I would encourage everyone in the North West to get behind their bid to win the overall award by taking 30 seconds out of their day to logon and vote for the hub to win the overall prize," he added.
The North-West Transport Hub is located at the former Waterside Train Station, a Grade B-listed building which served as one of the city's main stations for a century before closing in 1980.
The building has been restored and repurposed for use as a 21st Century transport facility, and is intended to act as a gateway to the North-West region, as well as promoting active and sustainable travel, bringing together a wide range of transport modes and providing enhanced customer and staff facilities.
Voting is now open at the following link: www.ice.org.uk/what-is-civil-engineering/peoples-choice-award
Tags: