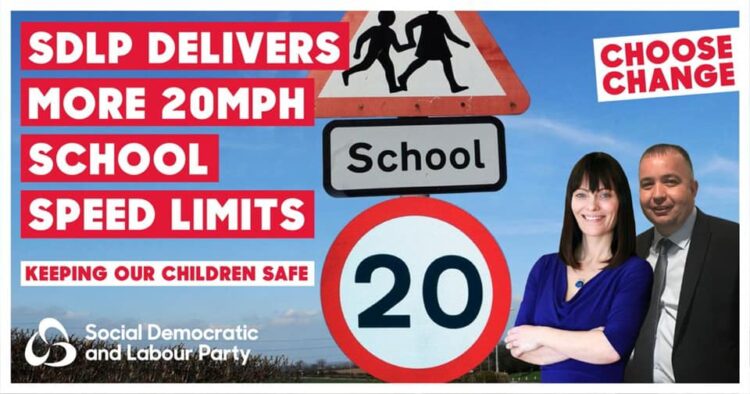 SDLP councillor Brian Tierney has welcomed a move by SDLP Infrastructure Minister Nichola Mallon to introduce new 20mph speed limits outside a number of schools in Derry.
The former Mayor of Derry City and Strabane District Council said the move would make things safer for parents, children and staff as they travel to and from school, alongside drivers and pedestrians.
Following SDLP Minister Nichola Mallon's announcement a total of 106 schools across the North will see the speed limit introduced on adjacent roads.
This announcement comes after the SDLP Minister delivered schemes in the first tranche for schools taking the total to 209 schools across the North benefiting from SDLP investment and leadership.
Said Cllr Tierney: "Today's announcement from SDLP Minister Nichola Mallon is fantastic for the local community. This will be welcomed by children, parents and school staff across the North.
"The SDLP has made road safety a top priority and our Minister Nichola Mallon is getting the job done by making sure that over 200 schools will benefit across the North, including schools in Derry, helping keep our children safe.
"I'm delighted that the SDLP's investment and leadership in government is making a real difference to people's lives.
"Parents, children, school staff and indeed all road users in Derry will be looking forward to seeing these new lights and signs erected outside our schools soon."
Tags: