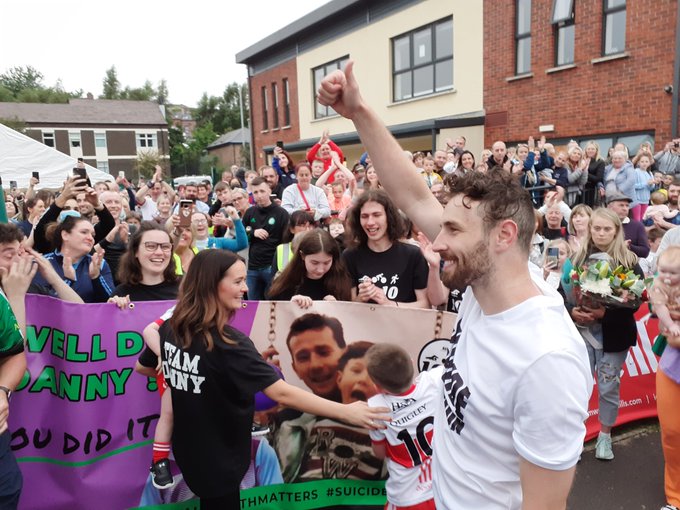 THOUSANDS of people lined up to welcome Danny Quigley home on Sunday as he reached the final leg of his incredile 'Iron Man Challegne'.
He was cheered on through Derry streets with cars honking their horns as a paramdeic 4 X 4 and motorbike outrider guided him into the Destined offices on the Foyle Road.
And he was given a hero's welcome after the most extraordinary of feats, with the crowd chanting: 'Danny, Danny, Danny…' as he popped a champagne cork to toast finishing his gruelling 10-day challenge.
Over the course of 10 days, Danny did 10 Ironman challenges, completing massive numbers which overall consisted of 24.5 miles of swimming, 1,120 miles cycling and 260.2 miles of running.
And as of Monday morning, August 30, a GoFundMe page has now raised a staggering £70,845 and counting!!
Danny's sterling efforts was to raise much needed funds for Pieta, a suicide prevention charity, and the Bogside/Brandywell Health Forum, on the tenth anniversary of his father Colm's death.
"It's amazing to be finished. I feel amazed by how many people have come out. I can't wait to lie in tomorrow. I feel sore all over and I can't wait for a bath," Danny laughed.
"This took a lot of work and a lot of work beforehand to make sure I could get through it. I had a few scares along the way.
"There were loads of lows but there were lots of highs as well and tonight was worth everything.
"Whenever I came back onto the line, I could just see all the cars and I was wondering if there was a match on or something.
"They were all there to see me come in which was class. I canny believe it."
One of those there to cheer Danny home was the Mayor of Derry City and Strabane Council.
The Mayor tweeted: "An emotional finish for a true champion.
"I was honoured to join the crowds who turned out to welcome Danny Quigley over the line as he completed his incredible ten-day Iron Man challenge.
"You have done yourself, your Dad & the City proud."
Danny admitted it will take a few days for everything to sink in.
"I'm that tired I can't do much. I can barely talk.
"I'm just really tired and it will probably take me a good while to come round and try to get back into a normal routine, because it's been a crazy few months since the 20th of March when I announced I was going to do it.
"It was really, really hard, harder than I thought it was going to be."
Some man for one man! Well done Danny.
If you want to help support Danny's fantastic efforts, you can donate here: https://uk.gofundme.com/f/DannyQuigley10?fbclid=IwAR1rXlete_aZBSS6gQ8PWlubHwZrAmktZrEngsMavqij_AACeyXDcPp83o4
Tags: