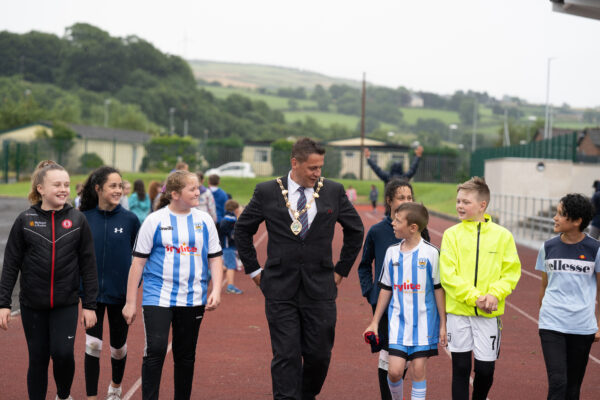 THERE was a huge thumbs up from summer campers in Strabane as they got to enjoy the new and improved facilities at the Melvin Arena, which has reopened this week following a £1.15m upgrade.
Mayor of Derry and Strabane, Alderman Graham Warke, joined children from the surrounding area for some fun activities at a week long summer camp which kicks off a special programme of events to celebrate the reopening.
Speaking at the launch, Mayor Warke said the facility would provide a huge boost for sport at all levels in the Strabane area.
"I am delighted to see for myself the fantastic work that has been completed here," he declared.
"Modern leisure facilities are so important in terms of supporting the health and wellbeing of the local community and it's great to see so many local children here today already making the most of the upgrade.
"To have the site confirmed as meeting IFA intermediate premiership standards is a brilliant achievement and it means we can look forward to some headline fixtures in the very near future.
"I'm sure all the local clubs will be pleased to see the increased crowd capacity, and the improvements to changing facilities for the player.
"I want to acknowledge all the effort that has gone into progressing these plans at a very difficult time for the building trade, and a big thank you to the IFA for their support in getting the Arena to the standard needed."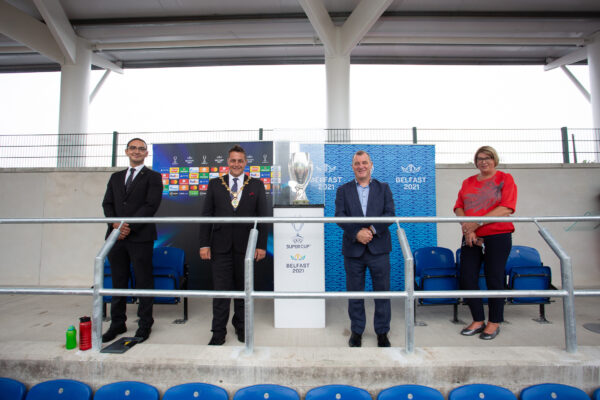 The upgraded facility boasts a 200 seater covered spectator stand, upgraded changing facilities, entrance booths and turnstiles, and toilet provision.
Council's Sports Development team will now engage with residents in the local area to shape a programme of coach led activities such as walk jog run, cycling or other physical activities which will best meet the needs of the local community.
The Children's Summer Scheme runs run from Monday 26th to 30th July, geared towards children aged 6 to 13.
The camp will introduce children to a range of sports and physical activity games with the emphasis on fun and building new friendships.
Work is ongoing to arrange a headline fixture at Melvin Arena working in partnership with IFA to deliver a launch event focused on female participation.
Officers are also working in partnership with sporting governing bodies to deliver opportunities to try and improve skills in Athletics, Cricket, GAA, Rugby and Soccer.
Director of Health and Community with Derry City and Strabane District Council, Karen McFarland, said: "It's a very exciting day for everyone to see the completion of this important capital project in the Strabane area.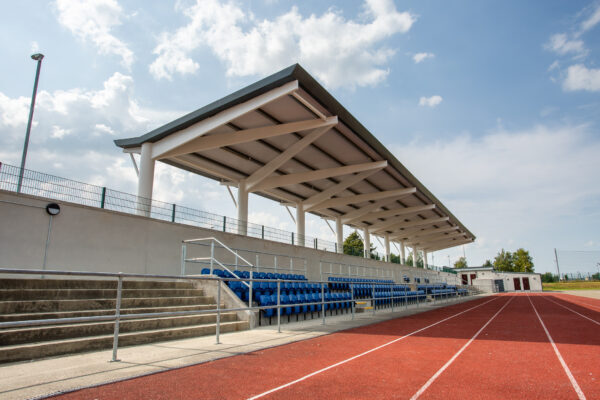 "It's part of Council's wider plans for the improvement of leisure sites across Derry and Strabane and our commitment to delivering state of the art sporting facilities for local communities.
"Over the coming weeks there will be lots of opportunities for clubs and organisations in the area to enjoy taster session at the Melvin 3G or Melvin Arena Track and to contribute their views on the exciting new skills programme being developed.
"I would encourage local groups to get in touch and see what the new improved facility has to offer."
Tags: