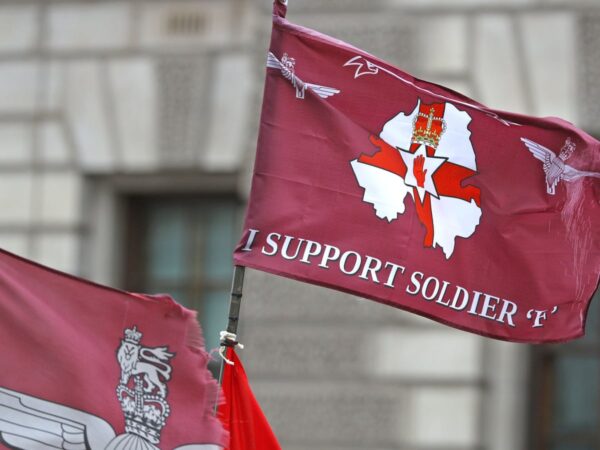 POLICE have confirmed officers removed several posters erected in Derry purporting to reveal the name of Bloody Sunday paratrooper Soldier F.
The Irish News reports the posters were put up in various locations around the city, including Guildhall Square.
And they were also widely distributed on social media despite a court order banning the naming of the former soldier.
The director of public prosecutions (DPP) met families on Friday to confirm that murder cases against Soldier F and Soldier B were being discontinued.
Soldier F was facing two murder charges in respect of the Bloody Sunday killings of William McKinney and Jim Wray.
He was also expected to be charged with the attempted murder of Joseph Friel, Joe Mahon, Michael Quinn and the late Patrick O'Donnell.
Soldier B was expected to be charged with the murder of Daniel Hegarty (15) who was shot dead early on the morning of July 31 1972 during a British army operation to clear no-go areas.
Director of Publice Prosecutions Stephen Herron told the families the decision to discontinue the cases was taken after evidence in a separate legacy case was ruled as inadmissible.
Soldier F was first granted anonymity during the 1972 Widgery Inquiry into Bloody Sunday. Last month, a court ruled that he should be allowed to retain anonymity.
The judge said threat assessments found that Soldier F was at low risk of attack from dissident republicans.
However, the judge said this could rise if he was denied anonymity.
He accepted an assessment from former PSNI assistant chief constable, Alan McQuillan that the former soldier would "have to look over his shoulder for the rest of his life".
A PSNI spokesman told the newspaper: "Police in Derry became aware of two posters that had been erected in Guildhall Square in the city on Saturday, July 3.
"Officers attended and removed the material.
"Inquiries into this incident are ongoing."
Tags: