Mayor Warke visited the site of O'Doherty's Coffin Makers in Railway Street area of Strabane to view the damage and to offer his support to the family of the local business.
The Fire and Rescue Service confirmed on Monday afternoon that the fire was started after the premises was struck by lightning.
Offering his condolence to the O'Doherty family who have been in business for over 100 years in the town, Mayor Warke said his thoughts were with the owners and their staff at this difficult time.
He said: "It was a very sad sight to see the level of destruction caused by the fire.
"While it is a terrible tragedy for the O'Doherty family and their employees, we have to be grateful that no one was killed or injured and that the prompt response of the fire service and other emergency services certainly prevented the fire from spreading and causing further damage.
"I would like to pay tribute to the emergency services and to all the statutory agencies, including Council, for their support in dealing with this situation.
"I sincerely hope that the O'Doherty family will re-establish their business and that they receive the support they need to do this in the weeks and months ahead."
Kieran Kennedy Chair of Strabane BID pledged his support to the O'Doherty family and the wider business community.
"This was a major fire that has had a huge impact on the Doherty family business and also the wider business community in the town.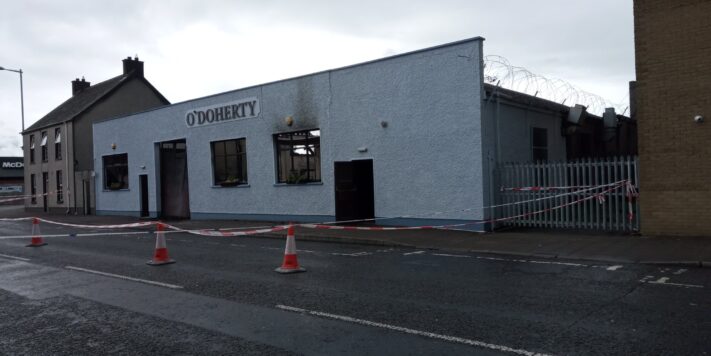 "I would like to extend my thanks to the emergency services and to the entire community in Strabane for their response to the fire.
"We will be working with the O'Doherty family over the weeks ahead to offer them support and assistance to get their business up and running."
The Railway Street area remained closed to allow for further inspections of the site, the public have been urged to avoid the area where possible.
Tags:
MAYOR of Derry City and Strabane District Council Alderman Graham Warke today paid a visit to the site of a major fire that took place in Strabane on Sunday.